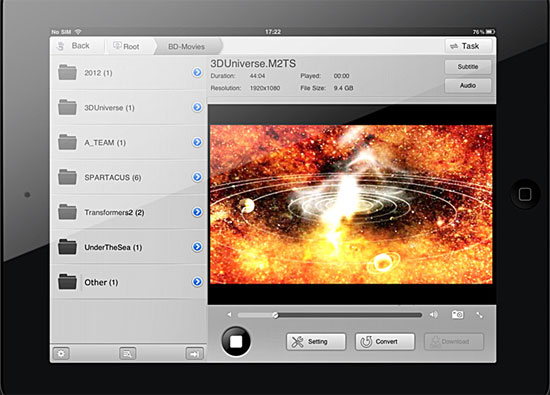 If you ever wanted to play some music or video that you have on your computer on your smartphone or tablet, you know that it's usually quite cumbersome to do it – you have to copy the files, find a good player and more often than not, convert the video files because they're too large or because the format is not supported by the player, which can take quite a long time (hours, in fact).
But there's another solution, which doesn't require all that and doesn't even require that you connect your mobile device to your computer – streaming. Until recently, there were only a few good apps that can be used for streaming media for the iPhone and iPad (Air Sharing comes to mind), and pretty much none for Android.
There is however, one app that works on both iOS and Android and allows you to stream music and video straight from your computer, without having to deal with any complicated set ups or cables. It's called Air Playit and it's freely available for download at airplayit.com.
The app is pretty good, and while it's obviously geared towards iOS users (it also first became available on the iTunes store, and was only recently released for Android), but the Android app works perfectly fine, and it looks nice, as well.
The way Air Playit works is simple – the software is divided in two sides, the server, which you need to install on your computer, and the client, which is the app for your phone or tablet. Air Playit works on both Mac OS X and Windows, and yes, you can stream from Mac OS X to Android and from Windows to an iPhone, no problems with that.
I tested the app on Windows with an Android smartphone. The setup on both Windows and Android is a breeze – just run the installer and wait for it to finish. Then you're good to go right away – the default settings match on the client and server, and the only thing you need to do is add the folders with music and video that you want to share and indicate the IP of your server on the phone.
You can further customize the settings if you want to – change the password, enable NVidia CUDA for fast file conversion, enable access via HTTP, and that's pretty much it – it's a simple app, actually.
My Android phone connected to the server instantly and it saw all the folders right away, I've got the chance to test the streaming capabilities since all media files were immediately showing up! I had a few photos in JPEG format, a few songs in MP3 format and a couple of videos in AVI format and not only all of them were accessible from Local AirPlayit server, but I've watched a movie on my phone without any issues.
I uninstalled both the server and client, and it was very straightforward – just close the app and uninstall it from the Control Panel in Windows and Application Management in Android.
So, if you want a simple app that will let you stream media from your computer (even via 3G from anywhere in the world using your external IP!), you should definitely give Air Playit a go – it's free, so you've got nothing to lose but only gain a new media streaming experience.