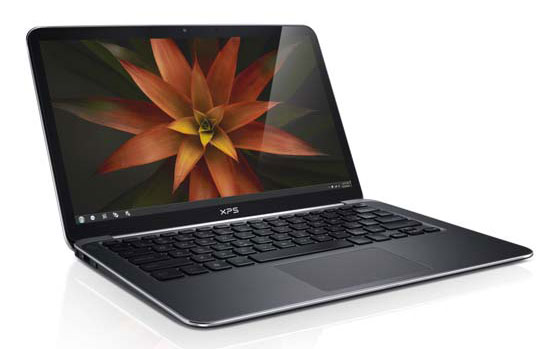 Dell hasn't been too prominent at this year's CES, but that doesn't mean they aren't cooking something up. They've actually announced quite a few new laptops at the end of 2011, and along with entering the tablet market with the Latitude ST tablet, they've also decided to release an Ultrabook, in the form of the XPS 13.
A very nicely built device capable of competing with the other Ultrabooks
Dell is no stranger to ultra slim laptops, as their Latitude XT series can prove (the XT3 is a marvelous convertible tablet, by the way), and the XPS 13 can easily compare with the other Ultrabooks on the market. It has some drawbacks, as well, but what device doesn't?
On the outside, the XPS 13 looks quite nice – it's got a design that reminds a lot of the recent XPS 14z and 15z, with rounded corners and a very specific chiclet keyboard with a unique font for the letters/numbers (you sure won't mistake it for anything else than a Dell, and I guess they were going for just that). The whole body is made out of a metal alloy, so it's pretty sturdy, although it's not on the same level as the MacBook Air or other unibody laptops.
Thin and light, with hardware similar to that of the competition
The laptop is wedge shaped, with the thickest point being 18mm (at the hinges) and the thinnest 6mm (at the palm rest), which is well within Ultrabooks specifications. The XPS 13 also weighs only 3 pounds, which is light enough to carry it all day long in a bag without much problems.
The 13.3 inch display is nothing special – just another 1366×768 LCD unit, but it should be good enough for most people, and there's no option for a higher resolution screen. The processing power is provided by a Sandy Bridge Core i5 or i7 processor with an integrated Intel HD 3000 graphics adapter and 4GB of RAM (upgradeable to 6GB and I believe 10GB if you do it yourself) and a 128 GB or 256 GB SSD.
There's also the omnipresent Wifi and Bluetooth adapters, two USB ports, a MiniDisplay port, one 3.5 mm audio jack, an SD card slot, as well as a pretty big battery that should last about 7-8 hours, according to Dell. This is consistent with what all the other Ultrabooks offer, minus of course, the HDMI port – that's a weird decision on Dell's part, but maybe they thought the MiniDisplay port should suffice.
Smart Connect, Rapid Start, 8 hours battery life – all for $999
The Dell XPS 13 supports Intel's Smart Connect and Rapid Start features, as per specifications, but I don't really see them being all that useful, especially with Windows 8 having something similar inbuilt. The XPS 13 will be shipping with Windows 7 however, which makes them more relevant.
The base model will cost only $999, which is definitely on the low side for a well built, metal Ultrabook that looks nice and is quite powerful, but if you deck it out with a Core i7, 256 GB SSD and 6 GB of RAM, you'll have to pay extra, of course.