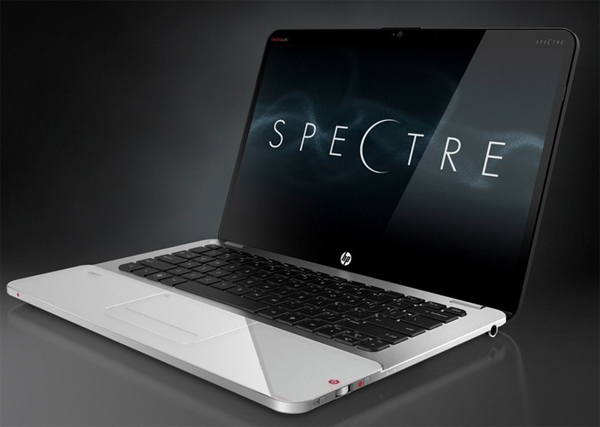 HP's first entry to the Ultrabook game wasn't as well received as other companies', with the Folio 13 not even being an Ultrabook technically, as it is a bit too thick and heavy, but at least the thing is cheaper than the competition, has some very nice hardware and is pretty sturdy, making it a great choice for both work and play.
At CES 2012, HP has once again demonstrated a new laptop that they claim is an Ultrabook, and this time it has a 14 inch display, looks a lot nicer than the Folio 13 and is aimed at a higher end niche – please welcome the HP Envy 14 Spectre.
I don't know whether HP's marketing and branding department thought "Spectre" sounds cool or they played way too much Mass Effect in their spare time (the laptop could definitely be SPECTRE material ;-), but I really like the moniker – it sounds much more unique than anything else HP has come up with in the past several years.
The Envy 14 Spectre's main stand out feature is the design – this thing looks very nice, and it's definitely different than all the other Ultrabooks and laptops on the market. It seems like HP was getting tired of the whole "Envy is a copy of the MacBook" debate, so they decided to change things up a bit and made the Spectre kind of like a MacBook Pro, yet still different. The main thing that stands out is all the glass – the Envy 14 Spectre has a lot of glass, for sure: the whole lid cover is made out of it, inside and outside, plus the palm rest is also covered with a sheet of glass.
You'd think that it would make it less durable than even a plastic laptop, but you'd be wrong – the glass is Corning's Gorilla glass, and that thing can easily withstand more punishment than a lot of rigid plastics, plus the main body is still made out of metal. This combination of glass and metal makes the Spectre very easy on the eyes and attractive in any setting, although there's going to be a lot of unsightly fingerprints everywhere after a day of use.
All the glass and metal makes the Envy 14 Spectre much heavier and thicker than an Ultrabook should be, so it really shouldn't be considered one, but the laptop is still pretty thin and light at 20mm and 1.71 Kg – it won't break your back even if you carry it with you all day long.
The hardware on this laptop is pretty respectable, as well: HP has equipped the Spectre with a 14 inch, 1600×900 pixels Radiance display, which looks fine and can help you get your work done faster and with less inconveniences than all the 1366×768 bottom feeders on most other Ultrabooks.
The performance of the Core i5-2467 should be enough for most tasks, and if not, there's a Core i7 option for you. There are 4 GB of RAM in the standard model, but you can easily upgrade that to 8GB of DDR3 RAM. The keyboard is backlit by individual LED's, making the letters clear as day during the night, and there's even an NFC reader built into the palm rest for easy info transfer from smartphones. There's not that many expansion capabilities, sadly – you only get 1 USB 3.0 port, a mini DisplayPort and a 3.5mm microphone/stereo combo jack.
The bad thing about the Envy 14 Spectre is the price. HP pegs it as a "premium Ultrabook", but I have a hard time believing this thing is worth the $1400 asking price for the base model – sure, it looks nice, but then again so do the MacBook Air and the Asus UX31, which offer more for the same price.