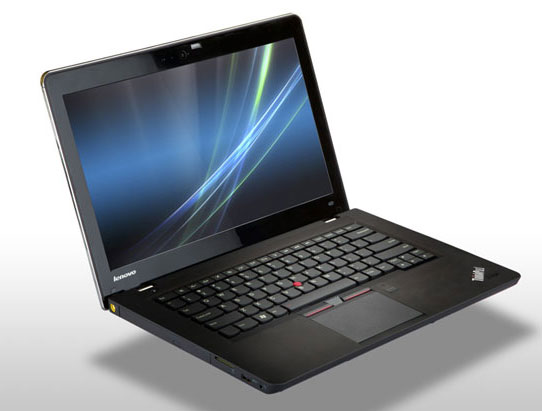 At CES 2012, along with the business ThinkPad T430u and X1 Hybrid, Lenovo has also shown off the ThinkPad Edge S430 – a pro-consumer oriented laptop that is nowhere near as thin as the X1 (or the T430u, for that matter), but which is pretty attractive with its design, pricing and features.
While the Edge series is still part of the ThinkPad line, they have a slightly different design that still keeps the overall understated and professional feel, yet is less repulsive than the usual black square bricks that IBM and later Lenovo released – and let's be honest, they're pretty darn ugly, even though they're among the most reliable and powerful laptops in the world.
The Edge series is characterized by round edges, island style keyboards, big touch pads and glossy displays (or more precisely, glass-covered), and the ThinkPad Edge S430 has all of that incorporated into it, which makes it look and feel pretty nice. In fact, I'd say that the S430 looks a lot like a black MacBook Pro – it certainly has the same overall lines, and if not for the unibody construction on Apple's laptop (the S430 is also made mostly out of metal, with an aluminum palm rest and lid, by the way), it would be quite hard to tell the difference.
The internal hardware is just as good as the external design: the S430 will be using Intel's all new Ivy Bridge platform, which is faster than the current Sandy Bridge platform, yet the chips will consume about 20-30% less power thanks to the new 22nm architecture and the tri-gate transistor design. That's pretty impressive and great news for anyone who needs their laptop to last longer on batteries – users will be able to get 5-7 hours out of a charge easily on the Edge S430.
The actual processor models that the laptop will be using haven't yet been announced, but it's fairly certain that they will be the normal voltage dual core i5 and i7 chips, with integrated Intel HD graphics adapter, which has also made quite a leap in performance. Judging by the size of the heatsink and vent, the processor will be very well cooled – that's a trademark ThinkPad design, actually, and it's good to see it continuing. For RAM memory, the S430 will be using DDR3 modules at 1333 MHz – standard fare, but more than enough for any tasks at the moment.
The display however, is a letdown – the standard 13.3 inch unit will have a paltry 1366×768 pixels resolution, and it's unknown whether Lenovo will be offering a higher resolution option (I hope they do, though). Among the selection of ports and expansion options, the ThinkPad Edge S430 will have 2 USB 3.0 ports, a HDMI out port, Intel's new Thunderbolt port, an Ethernet jack, SD card reader and of course, a 3.5 mm audio jack. There's also the integrated optical drive, which I'm sure many people will immediately replace with a hard drive using Lenovo's or a third party ODD caddy (who uses DVD or even Blu-Rays nowadays, anyway?).
Overall, the ThinkPad Edge S430 looks like a great choice for anyone who wants an affordable and powerful machine for resource intensive work on the go – it's not quite an Ultrabook, but it's definitely close. Oh, and the price will start at $899 – told you it was affordable!