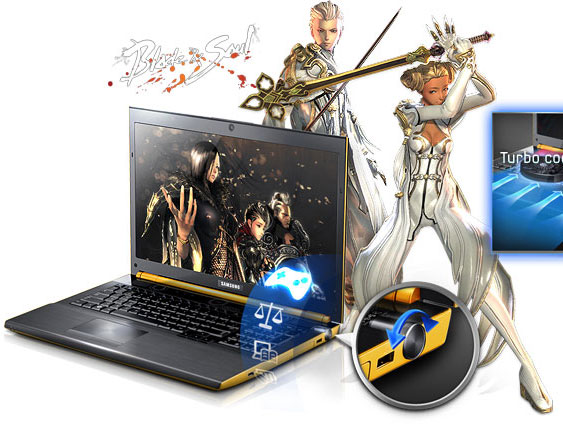 Samsung has been quite active at CES 2012, announcing a wide range of products, including several new laptop series and a lot of upgrades to existing models. One of the most interesting offers was the Samsung Series 7 Gamer – as the name suggests, these laptops are meant for gaming and going by the design and hardware specs, they definitely look like they can take on the popular Alienware series from Dell.
The Series 7 Gamer has been available in some countries for more than 6 months now, but the new update brings a lot of improvements, as well as a release in the United States. The design hasn't changed much – the laptop reminds a lot of the older Samsung laptops, with fake brushed aluminum finish, straight corners and relatively slim profile for a gaming machine. The build quality is very high and there's little flex, even though the laptop is made mostly out of plastic. There will be a few different colors available, as well – orange, red and gray, which also mirrors the Alienware gaming laptop models.
The internal hardware has received a few pretty major upgrades, as well as a sort of downgrade: users will no longer be able to get the 3D display that the first model had as an option – I don't know the reason behind this, but it's most probably because of lack of interest from buyers (not many would want 3D on such a small display). The display that is available is quite nice, though – it has a 1920×1080 pixels resolution, 300 nits of brightness and white LED backlighting and it should be more than enough for gaming.
The backlit keyboard, which surprisingly isn't chiclet style like most other new laptops, has a different color for the WASD keys to aid when gaming in the dark, and it feels quite good – it can easily be used for typing and work, when you're not playing games, which is great news for those who want a great all-in-one laptop. The touch pad is big and has a radial finish, which looks nice but not noticeable when you actually use it, but obviously, gaming with it won't be that great of an experience.
On the side of the laptop, you'll notice a dial (it stands out a lot, actually), which is used to switch between four different modes: Gaming, Balanced, Green and Library, all of which change several settings to make the experience better in each case (the gaming mode disables the Windows key, so you won't jump out of the game by accidentally pressing it).
Now, for the main course: the new Series 7 Gamer will use Intel's all new Ivy Bridge processors, which are faster and more energy efficient than the current Sandy Bridge CPUs. For the graphics, a Radeon HD 6970M or NVidia GeForce GTX 670 will provide the power, and the laptop has a powerful JBL audio system with a subwoofer integrated inside, as well as a big 5900 mAh battery that should last a couple of hours of gaming.
As you can see, the new Samsung Series 7 Gamer laptop is quite impressive, and despite all the new hardware that Samsung crammed inside, the price will be kept under $2000 – the base configuration will cost $1799 in the US, actually, which is definitely a great deal for a gaming laptop.