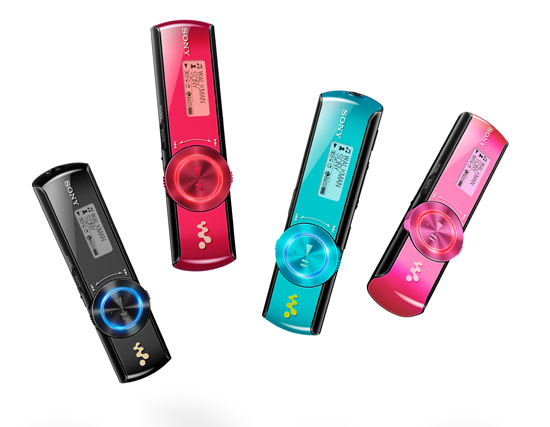 The new brightly colored Sony Walkman MP3 players are small and light weight but big on sound. They include great features that are sure to please any avid music lover. The B170 series is obtainable in 2GB or 4GB, which provides plenty of space for all of your songs. They have a bass boost button, onboard equalizer, voice recorder and USB port so you can personalize your sound.
The Walkman also includes other great features like a quick 3 minute battery charge that give you a full 90 minutes of playback time. It gives you up to 18 hours of playback time with a complete charge. The built-in USB port makes it is easy to upload your favorite songs to your device, because it connects directly to your computer. It also includes user friendly drag and drop process without any software to install. It is also compatible with your hi-fi car stereo so you can listen to your music in the car, as well.
It includes features to help you find the song you want at the moment with it ZAP button. When you push the ZAP button it scans through your collection of music and plays a snippet of each song in continuation until you find the song you want and hit the ZAP button again to listen to the entire song. You can carry your MP3 with you everywhere you go with the chunky clip that attaches to your belt or bag strap. This new Walkman B Series is a state of the art music player in a tiny and stylish pocket size MP3 player.
[learn_more caption="Read Press Release"] 20 January 2012
Light, colourful MP3 player with quick-charge battery
Pumping beats with Bass Boost button
Quick 3 minutes battery charge gives 90 minutes playback
Clip attaches Walkman® to belt or clothes
Easy drag and drop music transfers
Built-in USB connects Walkman® to PC, hi-fi or car stereo
Get ready to really feel the music with the colourful Walkman® B170 Series of MP3 players from Sony.
Walkman B170-color range
Weighing just 28g, new Walkman® B Series is small and light enough to take anywhere: but don't be deceived by its tiny size. Press the Bass Boost button and you'll be blown away by rich, pumping low-end. And to show where you're coming from, there's a colour-matched LED that pulses in time with the music.
When you're in a hurry, 3 minutes charging time gives enough battery power for 90 minutes listening. Fully charged, Walkman® B Series lets you listen non-stop for 18 hours1 – plenty for the longest commute or an overnight break.
You won't want to keep other people in the dark about your favourite MP3 player. Walkman® B Series features a chunky clip that attaches to a belt, bag strap or clothing to show off your style.
It's easy to load up with your favourite songs. Walkman® connects directly to any Windows2 PC via its built-in USB port with no extra cables required. Copying files is a simple drag-and-drop process, with no need to install any file transfer software. You can also connect Walkman® to a compatible hi-fi or car stereo3 and enjoy direct playback.
Looking for the right song to fit your mood? ZAPPIN™ search technology scans through your music collection, previewing a snatch of each track without menus or playlists. Hear a track you like and press the 'ZAP' button again to hear the whole song.
Extra refinements include an on-board equalizer to sculpt your sound, plus a voice recorder that's perfect for grabbing spontaneous thoughts, notes and ideas.
The new Walkman® B170 Series of MP3 players by Sony are available in a choice of 2GB or 4GB capacities from January 2012.
[/learn_more]