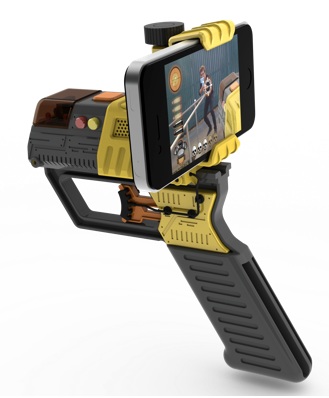 Get kids up, moving and off the couch with the next generation of Laser Tag! The AppTag Laser Blaster will work with almost any iOS and Android smartphone, plus iPod Touch.
The AppTag Laser Blaster SDK will soon be made available to all developers so you can expect to see tons of games at launch! Besides the trigger, the AppTag Laser Blaster features a reload button, as well as 4 additional buttons for developers to use however they want to expand the game play and fun!
The detachable mount uses the same slide-rail attachment system found on almost all toy blasters and many real guns. The possibilities for kids and even real world training are endless!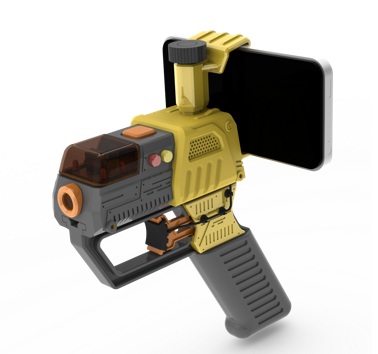 Because of the implementation of the patent pending high frequency sound technology, the buttons will allow for much more expanded game play and much longer battery life than our competitors.
High frequency sound works outside the range of human hearing and allows for easy control of all smartphones via their microphone. It's forward and backward compatible with no interference from outside noises because this spectrum is virtually empty in the range we use. Pets and babies are not effected, because the volume is very low.
Bluetooth and wifi are expensive to implement in toys, they heavily consume batteries, and are painful to setup for kids. Our technology will "just work" like all Apple and Android products should!
Hop on over to Kickstarter and get one now, or better yet, get one for you and another for a friend!