There are a lot of new devices, gadgets and accessories being announced or demonstrated every day, and this series will keep you up to date with the most interesting and important releases. Here's what we've got for you in today's gadget digest:
Lenovo's Racer A (aka K800) smartphone running on the Medfield SoC is pretty impressive
Lenovo has demonstrated the first ever Medfield (Intel's x86 platform for mobile devices) smartphone, and despite it being a prototype it was pretty damn impressive. The SoC, which contains two 1.6 GHz Atom processors, was built using the older 32nm process, but despite that, the Lenovo K800 (or Racer A, if you prefer) has shown quite a good battery lifetime. The new 22nm process should make the chip even less power hungry. The performance of the chip is impressive – Android ran on the phone like it was on a native ARM CPU. Despite ARM saying that they don't care, Medfield is definitely a potential game changer – expect to see full x86 software on smartphones in less than 5 years if Intel succeeds.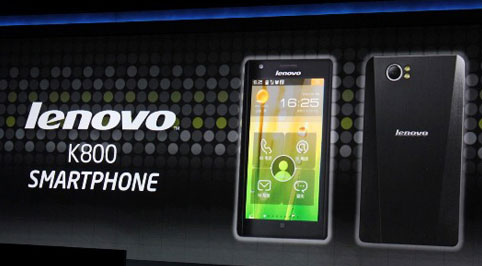 Toshiba's Portege M930 is almost like the Asus EEE Pad Slider, only with Intel Inside
If you liked the Asus EEE Pad Slider, but are a fan of Windows rather than Android, you'll love the Portege M930. The tablet runs on an Intel platform with a fast dual core Core i5 ULV processor, has 4 GB of RAM and a 256 GB solid state drive – that's much more powerful than the EEE Pad Slider, for sure. The slider mechanism is very similar to the one on the Asus, although the keyboard is better. The device is big and heavy though – it's 1.1 inches thick and weighs 4.2 pounds – it definitely needs to lower those numbers to be successful.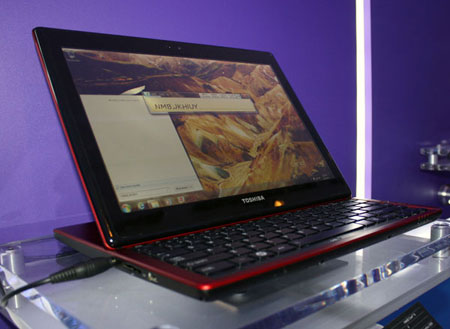 image: notebookitalia
Toshiba is also investigating the use of 21:9 format displays on mobile devices
Toshiba (again) is also trying to see whether a wider display format would be popular with the users, and the feedback has been positive so far. Their 21:9 format mockups look pretty unique, and while I don't care for the super wide screen tablets, a long smartphone with a wide screen looks pretty appealing, especially when it can fit in my pocket and still be able to display full size Web pages (with a lot of vertical scrolling, but nonetheless).
Archos is quick to update the G9 tablets to quad cores and Ice Cream Sandwich
Archos is surprisingly quick to get into the quad core game, having announced that their 101 G9 and 80 G9 tablets will be receiving a small upgrade in the form of the Tegra 3 quad core processor and of course, Android 4.0 Ice Cream Sandwich for software. The G9's special feature is the huge storage capacity thanks to the use of actual hard drives, and with a quad core and ICS under the hood, the two models are worth a closer look.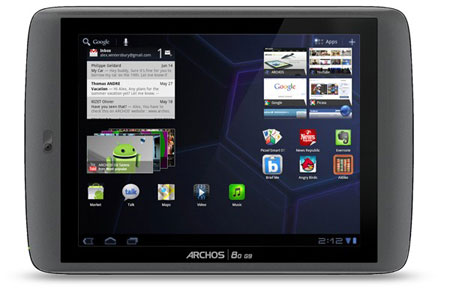 ARM is helping startups bring better Augmented Reality to the real world
ARM is helping several startups optimize their AR apps to take full advantage of the CPU and GPU's capabilities for a real time augmented reality experience. Thanks to their know how, the companies have demonstrated a very quick overlay of information and pointers on the smartphone's display, as well as a very nice 3D tracking without the need for markers – it looks like AR will become big in the coming months.
Keep up with the industry and find out about the latest product releases and announcements with the gadget news digest on Gadgetmania – follow Us on Twitter!