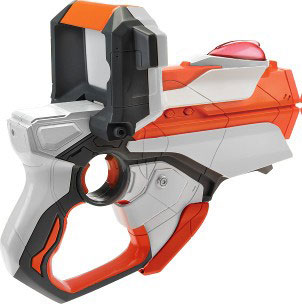 Those who own an iPhone or iPod now have the opportunity to live out their fantasies of playing lazer tag with their friends whenever and wherever.
Xappr has created lazer-like guns in which you can attach your iPhone or iPod touch to and enjoy the fun of lazer tag. appBlaster has also been used for this purpose. However, Hasbro has made all of the difference, bringing back the old school classic, NERF Lazer Tag. The NERF Lazer Tag System will be receiving new updates for the New Year, all of which will benefit those who enjoy a good game of lazer tag. With the new updates, a blaster can be matched up with an iPod or iPhone for lots of lazer fun.
The newest plastic-made guns will have a special slot made just for the iPod touch or iPhone to be placed inside of. If you download the Lazer Tag application and have the plastic gun, you will have fun attacking your virtual opponents. The app will also let you know how much power you have left and will show what type of gear you are using. The more you play and the higher your level, the more gear you will be able to unlock and the more attacks you will be able to take on. Gamers will enjoy such a virtual gaming experience of the traditional lazer tag game.
The newest edition of Lazer Teg will be released at the beginning of August. Those who are anticipating the release will have to wait quite a few more months before enjoying the new features. When released, one blaster will cost about $40 but you can get a sweet deal, buying two blasters for just about $70.
via iPodnn