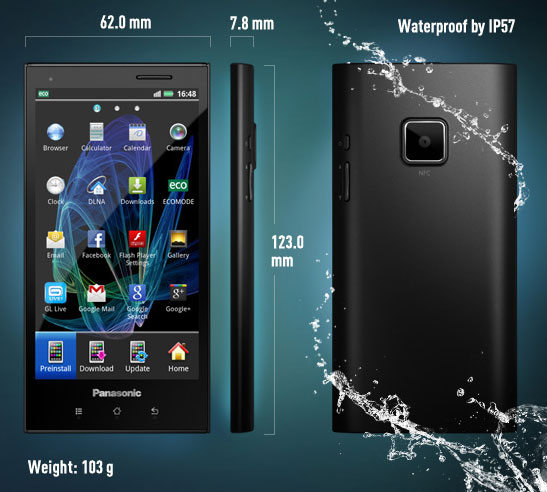 A Japanese smartphone manufacturer will send its love to Europe in the near future. Panasonic is expected to ship Eluga and possibly another smartphone in the coming weeks. Panasonic didn't make an official statement about this but if you'd ask me, Eluga was probably named after the Beluga whale because of its waterproof body. Beluga would have sounded better than Eluga, yes?
Weighing only 103 grams, Eluga is even lighter than the plastic body of the Samsung Galaxy S2. It packs a 4.3 inch qHD screen with a meager resolution of 960 x 540. Media and online browsing can be done on a larger screen by connecting it to a Panasonic HDTV. It comes with waterproof and dustproof shell, making it perfect for the outdoors. Despite these advancements, it's a shocker that the device still runs on Gingerbread. Panasonic does cite on their website that an Ice Cream Sandwich update will be released on Spring 2012.
More recently, an unnamed smartphone called P-04D arrived at NTT DoCoMo, a 3G mobile communications company based in Japan. Because it has similar dimensions to Eluga, some speculate that it's the same phone. P-04D only comes in a deep purple shade and has a qHD OLED display. For a large phone, it's unclear whether its 1.0 Ghz dual-core OMAP Processor will suffice since most Android phones of the same size have greater speeds.
If P-04D is a different phone, let's hope Panasonic comes up with a better-sounding name than Eluga. Either way, it is still expected to land on European shore – the first Panasonic phone to head west for that matter.