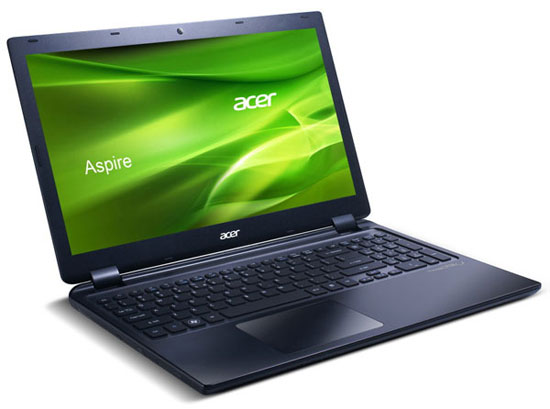 Acer's new products haven't impressed a lot of people this year, which is a bit unfortunate since the CloudMobile smartphone, new Android tablets and the S5 and M3 Ultrabooks are all great machines. I guess the reason for that are the mediocre specs of the devices – they real aren't top of the class and Acer isn't a well-known brand on the mobile market that can persuade people to avert their eyes from the competition buy their products (only Apple seems to be adept at that).
Fortunately, Acer has one piece of the market figured out – the laptops niche, and they're not going to abandon it anytime soon. With their latest notebooks, they're solidifying their position and offering customers something new at the same time – the Aspire Timeline Ultra 14 and 15 are almost-Ultrabooks with the performance and features of traditional laptops under their hoods.
Design and build quality
The design of the new pair of Timeline Ultra laptops is very nice and surprisingly uniquely styled – no matter how you look at them, the laptops don't remind you of the MacBook Pro, which can't be said for many of the competitors. Despite that, the laptops are very attractive and have quite a bit of style to them. Both models have a magnesium alloy housing that is just as durable as you would expect – there is no flex anywhere and the metal just feels great under your hands. Obviously, to be called even "almost-Ultrabooks", they have to be pretty slim – and indeed, they are – while we don't know the exact measurements, the Timeline Ultra 14 is just as thin as the HP Envy 14 Spectre, for comparison.
Hardware features and performance
Just as their name suggests, the Aspire Timeline Ultra 14 and 15 have a 14.0 and 15.6 inch display, respectively, with the same 1366×768 pixels resolution on both – that is a bit disappointing, but hopefully Acer will offer a higher resolution option for those who need it.
The main specs of the laptops haven't yet been announced, but Acer said that both laptops will be using a Core i7 processor and NVidia graphics – probably the new chips (Ivy Bridge and GeForce 6xx series) from both companies, which should provide plenty of performance for any kind of use.
One unique feature of the Aspire Timeline Ultra 14 and 15 is the integrated slot-loading DVD-RW unit – at the same time, the battery life is quoted at 8 hours for the 14 inch model and up to 7 hours for the 15 inch model – not too bad. The selection of ports is pretty standard, and includes three USB ports (two of which are USB 3.0), an Ethernet jack, a HDMI out port and a 3.5 mm audio jack. There's also the usual SD card reader and internal Wifi/Bluetooth radios present on both devices.
The touch pad is off center, which can make it uncomfortable at times, and the lack of a backlight on the keyboard are a minor drawback, but if you don't care for those, the Timeline Ultra 14 and 15 look like a perfect choice for work and entertainment, whether in the office, at home or on the go.
Price and Availability
Acer has only announced the laptops a while back, and said they will be released by the end of the second quarter of this year, so it shouldn't be long until we see them in stores. The pricing will be under $1000, which definitely makes them a prime option for anyone looking to upgrade to a slim yet powerful laptop.