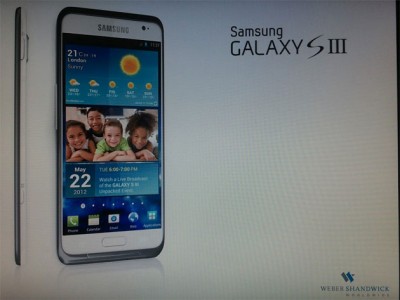 This year's biggest sports event will be preceded by Samsung's biggest announcement yet. A press image of Samsung Galaxy S3 appeared online, hinting its upcoming announcement. The photo looks real this time and nothing like the concept photo that surfaced weeks ago. Samsung Galaxy S3 will most likely be announced in London, at a Samsung Unpacked event scheduled May 22.
The leaked photo shows a white Samsung Galaxy S III on a white background. What stands out the most is the metallic accent which overlaps the screen's bottom panel. Below the large edge-to-edge screen is a wide, rectangular home button similar to Samsung Galaxy Note. On the sides you'll find a volume rocker, a power button, a front speaker grill, and a dedicated camera button. If you look at the dock, the five icons tell us that it has the same TouchWiz interface but with a larger screen. Samsung Galaxy S2 could only accommodate 4 icons whereas Galaxy Note has space for 5. Combine all of its design elements and we have a Samsung Galaxy S3 that's almost identical to Galaxy Note. It's hard to tell if both have the same size.
No dates or location regarding its launching were detailed on the poster – or so we thought. If you look past the Touchwiz interface of Samsung Galaxy S3 you'll find everything there is to know. The top side of the screen has a weather widget showing sunny days in London. The bottom screen shows a calendar widget dated May 22 and includes the note "Watch a Live Broadcast of the Galaxy S III Unpacked Event." These details fit previous reports that Samsung will announce their latest flagship device in a separate event, as well rumors of a pre-Olympics 2012 launching.
Global PR firm Weber Shandwick is behind its advertising and something tells me they intentionally leaked the photo. We previously reported that Samsung Galaxy S3 is geared for a massive advertising campaign in the UK. This isn't the first time Weber Shandwick lent a hand to Samsung. They had Sammy's back last CES 2010 among many others.