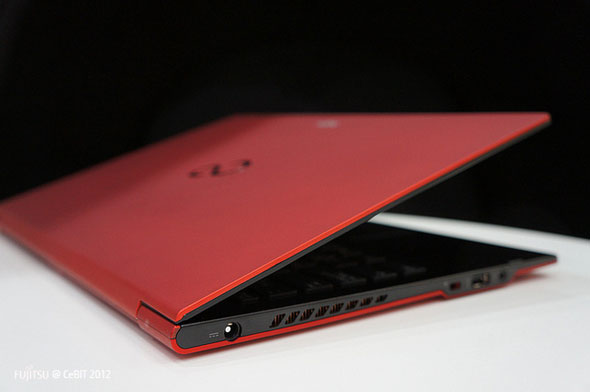 Asus may have released netbooks two years late with their Eee PC Flare line but at least the company has ultrabooks and tablet PC hybrids fit for modern times. Fujitsu has never showed us any ultrabook – until yesterday's CeBIT that is.
Fujitsu revealed a no-official-name Lifebook Premium during their press conference at CeBIT 2012. This is the first ultrabook with 4G LTE connectivity, wow! It looks really sleek, but will it have powerful specs to match its professional look?
It's an ultrabook targeted towards individuals in the enterprise. Lifebook Premium is one of the many upcoming ultrabooks planned by Fujitsu this 2012. We can all let out a sigh of relief now. Finally, Fujitsu has decided to hop on board the ultrabook train.
Lifebook Premium is a 14-inch model with sharp edges and a flat surface on all sides. It has an edge-to-edge design and leaves little space between bezels and the display. The top bezel does make room for a webcam though. It has a thin and lightweight profile with a thickness of 16mm and weighing only 3.3 lbs. If the dummy turns out to be a final product, Lifebook Premium will have one USB 2.0 port, some USB 3.0 ports, HDMI, and SD card slot, an Ethernet connector, and a headphone jack on its sides.
Underneath the ultrabook should be a Kensington Security Slot like any standard laptop. Bluetooth and WiFi connectivity can also be expected from it. Fujitsu details Lifebook Premium will have an above mentioned 4G LTE modem and a 1.5GHz Ivy Bridge processor. All other details will be revealed at a later date. Stay tuned!
image source: Fujitsu