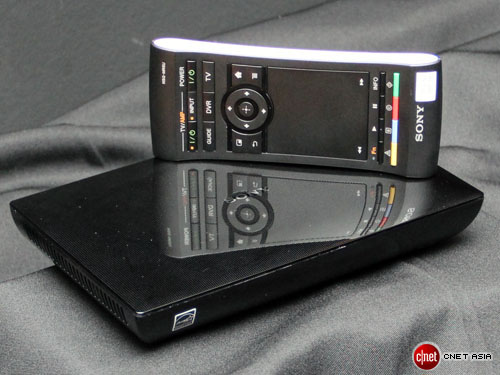 In today's Bravia TV Event in Singapore, Sony showed off an interesting gadget – an Android-powered internet box. It's not a first but like its competitors, intends to turn your "dumb" TV into a smart one. While no specs were given, its chunky remote control gives away a few details on its use. Sony is expected to launch their unnamed internet box in a few weeks.
An internet box turns your "dumb" TV to a smart one by equipping it with Smart TV features, mainly access to the internet. Since Sony's device is powered by Android, it can also be used to download Android apps. Unlike its competitors, Sony's new internet box supports the Google Play app store. Aztech PlayExtreme 2 and AC Ryan Velo, two of its biggest competitors, only allow access to third-party app stores.
Sony's internet box comes with a thick remote control which has two sides. On one side, it has a touchpad similar to those found in keyboards for moving the cursor. There's also a four-way navigation key along with several other buttons. On the other side we found a QWERTY keyboard. What sparked our interest were its 3D and REC keys. We're not sure how it could possibly implement 3D viewing on standard television but the video-recording function is likely to ship with it. Features we should expect include internet browsing, social networking, video streaming, and the ability to rent movies and series directly from Google Play.
We're looking forward to Sony's upcoming announcement of their Android internet box. When that day comes, we'll be sure to let you know about all the juicy details – including what it will be called. Hopefully, it will be able to support TV brands other than Sony as long as certain specifications are met.
via CNET Asia