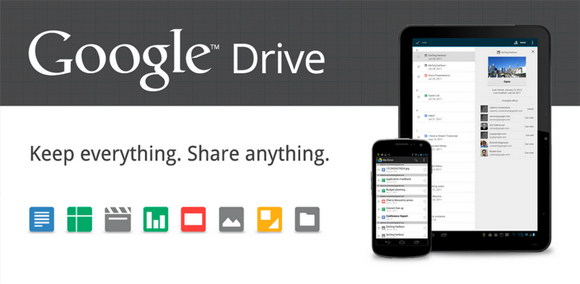 Google Drive has long been buzzed about in the tech world but it couldn't get any more real as it is today. Sundar Pichai, Senior Vice President of Chrome & Apps, explained it is nothing more than an evolution of Google Docs and they're offering 5GB of free storage for everyone. Google Drive offers the same services as Google Docs and provides cloud-hosted storage. All you need is the internet and you're free to access photos, videos, PDFs, and all other files via Google Drive – anywhere, anytime. Universal search is also built into the app, an innovation so powerful it can recognize OCR from scanned documents.
Of course, the key feature of Google Drive is cloud storage. It allows you to safely store and access all sorts of files from anywhere – whether you're at home, work, or halfway across the globe. Files can be added into the cloud and retrieved to all Android devices so long as they have Google Drive installed. And because Google Docs is incorporated into it, you can still use it to "create and collaborate." Users can create documents, spreadsheets, and presentations and have the option to share them to others.
Collaborators who are sharing documents can add and reply to comments on all file types. Notifications will be forwarded whenever someone comments on a shared file. Lastly, there's the search feature which includes filtering for relevant results.
Google Drive is smart enough to recognize text in scanned documents, thanks to Optical Character Recognition (OCR) technology. This means you can search scanned documents for text. Google does say that OCR is still in its early stages which means it doesn't work all the time.
A 5GB cloud storage is offered free for everyone. If you need cloud storage past that limit, you can pay Google $2.49 a month for an extra 25GB. Other options include $$4.99/month for 100GB, and $49.99/month for 1TB. Whichever you choose, Google will throw in 25GB more free space for your Gmail.
[ Google Drive – Google Play Download Link ]