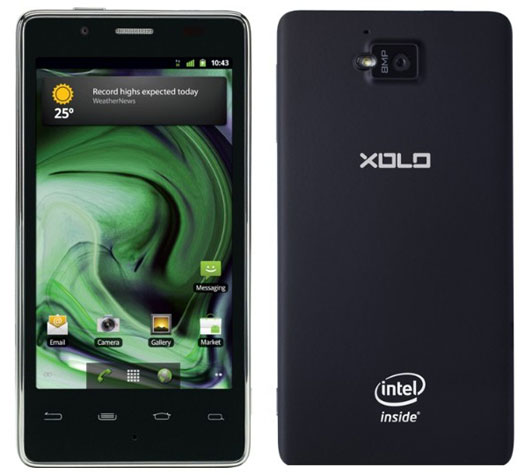 Intel wanted to enter the smartphone industry for years and we couldn't blame them for that. During the last quarter of 2011, smartphone sales went past PC sales for the first time and Intel probably knew this was coming all along. Tomorrow, the company is finally launching Xolo X900 in fulfillment of what they wanted for so long. Xolo X900 is the first Intel-based smartphone.
Xolo X900 will launch in India as a midrange to high-end handset. The phone is a product of Lava, a local handset maker in India. It has an 8-megapixel camera and 4-inch screen like most its competitors are. It will, however, run the outdated Android 2.3 Gingerbread. Last but not the least is the 1.6GHz Medfield processor powering the device. Details of its other specs are unknown not that it really matters though. Its availability may be limited to India and a few select regions where Lava will export their phones.
The arrival of Xolo X900 on the market isn't unexpected. The chip company initially showed off its reference design at CES 2012. Back then, we knew it was running Gingerbread, had a 1024 x 600 display, and that it was a stiff competitor against its rivals. In fact, it garnered tablet-like benchmarks – and scored higher than Galaxy Nexus – on several tests including BrowserMark and SunSpider. Intel said the same performance should be expected from a phone running ICS. 3D performance tests showed it performs better than TI OMAP 4460 but overall graphics performance wasn't that impressive.
In terms of power consumption during standby, then-unnamed Medfield-powered phone does a little bit better than Samsung Galaxy S2 and very much ahead of than iPhone 4S. It also takes up the least amount of power when browsing the internet on 3G data. It sneaks up between iPhone 4S and Galaxy S2 on power consumption during 3G calls. The phone only fails terribly on 720p video playback where it consumes 850mW compared to the 500 to 650mW of its competitors.
As for the rest of the world, we can expect Motorola to take the lead in pushing out the first globally-available Intel-based smartphones given its partnership with Intel. It was previously announced that Motorola will release one by second half of the year. Despite having a similar partnership with Lenovo, the Intel-powered K800 is never leaving China. Orange UK already showed off "London" two months ago and said the Intel smartphone is launching this summer.