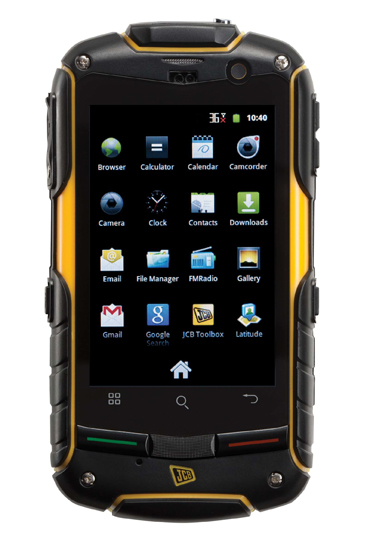 The world had its share of rugged smartphones, built to withstand shock, water exposure, and all other forces of nature. Devices like these are perfect for everyday-everywhere use, be it at home or extreme environments where people usually don't want to bring their smartphones. Today's announcement of Toughphone Pro-Smart by JCB adds to the list of rugged smartphones running Android.
JCB isn't new to the smartphone industry. The British construction equipment manufacturer previously worked with Motorola and produced a Defy + JCB Edition just a few months ago. But this is the first time JCB launched a smartphone with their own brand though and they call it Toughphone Pro-Smart. The company touts it as tougher than most rugged phones currently on sale, including Motorola Defy. Unlike them, Toughphone sets itself apart with an IP67 rating. That means it can survive being dropped in water, take a few knocks, and has better resistance to dust and dirt.
Toughphone Pro-Smart looks like a toned down version of the G-Shock smartphone. It has a few protruding edges but not to the point where they'll get in your way when held with one or two hands. Design concept is well put-together and sporty. It has a scratch-resistant 3.2-inch HVGA screen enclosed by a robust black-and-yellow chassis that prevents water and dust from leaking into the hardware. And it can take a few knocks too, thanks to its well-guarded body.
Other known specs of JCB Toughphone include an 800MHz processor, Bluetooth 2.1, WiFi 802.11 b/g, 5MP rear camera, a TBC front-facing shooter, and expandable microSDHC memory of up to 32GB. The phone also has a fat 2000mAh battery. SIM-free stocks are currently available at Clove UK and it's selling for £310.80 inclusive of VAT. The midrange handset runs the pure, skinless version of Android 2.3 Gingerbread.