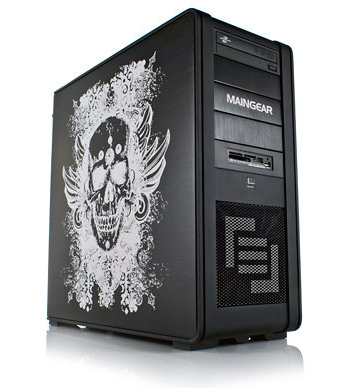 After announcing Pulse 11, an 11-inch Ivy Bridge-powered gaming laptop, Maingear unleashes new vertical heat dissipation desktops. Their already-existing line gets two additions today and they are no different from their predecessors in terms of function. Both new models still have the same award-winning VRTX Cooling Technology but they do get some design changes, making them slimmer. This comes at the expense of space for storage though.
The first model announced is a remake of F131, a current-generation mid-tower MicroATX PC. The new F131 is 38 percent smaller than the previous release with dimensions measuring 19.2 x 9.3 x 11.2 inches. It has support for dual video cards of any size and includes a tool free, hot swappable drive bay which allows easy adding of storage.
The second model announced is called Potenza and has a Mini-ITX form factor. Maingear says this architecture is 45 percent smaller than the new F131 and up to 76 percent smaller than Shift. It measures only 15.6 x 7.3 x 9.3 inches. The sleek design of Potenza comes with a price. Unlike F131, it has no space for video cards longer than 10 inches – like NVIDIA GeForce GTX 680. But it does have support for 3.5-inch and 2.5-inch drives. Adding liquid cooling is an option.
In traditional Maingear fashion, Potenza and the 2012 F131 are open for overclocking and custom paint jobs. Intel's newly announced Ivy Bridge processors are also an option. F131 sells for a starting price of $1,049 and Potenza at $899. You can buy both systems from Maingear's official website beginning today.
The VRTX Cooling Technology used in Potenza and F131 take advantage of the fact that heat naturally rises in a desktop. Traditional PCs just vent out heat from their rear and are less efficient at dissipating heat. VRTX does the opposite and orients video card exhaust ports and rear panel exhaust fans on the top part of the PC. This way, more heat gets to escape from the desktop and heat problems are less likely. Introduced in 2009, VRT Cooling Technology won an award for 2011 CES Design and Innovations.