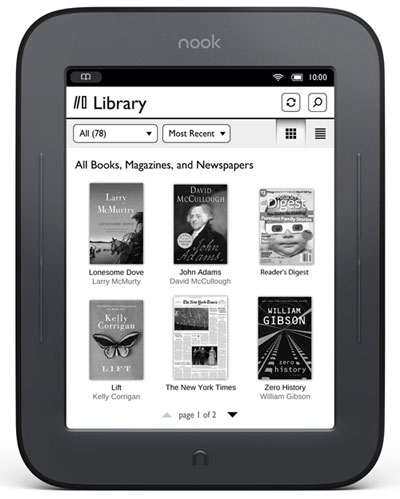 Nook, like Amazon's Kindle, lacks many features that other Android tablets do – even if they ran the same mobile platform. Developers paid special attention to the Barnes & Noble line of E ink readers, rooting and modifying them every way they can for better functionality. Most recently, Nook Simple Touch gained multitouch; a function which doesn't ship with the device but was hacked by an XDA member. But hardware limitation – specifically lack of LED lights – kept developers from enabling backlight on Nook since they can only tweak software. Wait 'til you meet Nook Simple Touch with GlowLight.
Nook Simple Touch with GlowLight was announced today by Barnes & Noble as an upgrade to their 2010 release, Nook Simple Touch. It's no hack. It's a new product. It has a few design changes for the better, including LED backlights for reading in the dark. LED backlight places it ahead of existing E ink readers, including Kindles, which lack this spec and require additional lighting for reading in your bedroom and other dim places.
The 6-inch 600 x 800 pixel display is still there, but the "Flex Lighting" film sitting on top of it distributes light evenly throughout the screen. The LED lighting film relies on one or two LEDs hidden beneath the bezel. To adjust the light, simply hold the "n" button at the bottom of the screen – the longer you hold, the brighter it will get. There's also an on-screen slider control that lets you adjust lighting without having to fumble in the dark. According to Barnes & Noble, leaving the lights on for half an hour each day would require you to charge the device once a month. Now that's one powerful battery. And if you fall asleep while reading, the display will time out automatically within 5 minutes of inactivity to save battery.
Externally, there is now a snazzy gray trim surrounding the outer edge of the front bezel – distinguishing it from the two-year old Nook Touch. Despite this and the new LED-illuminated display, it gets to be 15 grams lighter than its predecessor too. Nook Simple Touch with GlowLight will be the first E ink reader with integrated lights considering Sony's attempt on Reader PRS-700 was unsuccessful. Amazon is expected to integrate a similar technology on their Kindles later within the year.
Nook Touch with LED is going on pre-order next Thursday for $139, a mere $40 extra from the $99 Nook Touch. Shipment will start on early May but no exact date was given.