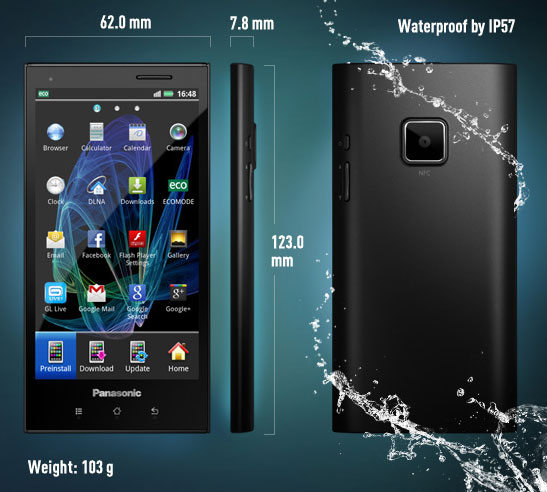 Eluga is Panasonic's first Android smartphone and while it has an awkward-sounding name, you'd be amazed by how stunning it really is. The Japanese manufacturer unveiled it two months ago and promised a European release. They did, however, fail to mention the specific date of arrival. Well folks, the moment you've been waiting for has finally arrived. Panasonic Eluga is now available in Europe. Since you've probably forgotten its specs and key features, we're going to give you a refresher on that.
Panasonic Eluga – short for "Elegant user-oriented gateway" – has an elegant candy-bar form factor. The edges are blunt upfront but they taper towards the back for a more comfortable grip. It has a slim profile measuring only 7.8mm thick and feels very light to hold as it weighs 103g. The 4.3-inch screen may be limited to 990 x 540 pixels but qHD OLED display backs it up and makes it more vibrant. Eluga is powered by a 1GHz dual-core TI OMAP processor and has an 8-megapixel rear camera and 8GB internal memory.
There's more than meets-the-eye with Panasonic Eluga. One of its standout features is its water-proof and dust-proof shell. Panasonic says it can survive 30 minutes in depths of up to 1 meter. Also worth mentioning is the scratch-resistant Gorilla Glass used to protect the display. NFC technology is wired into Panasonic Eluga, equipping it with the ability to make wireless payments. In spite of these great features, Eluga does lack LED flash. But then again, you can still capture 1080p videos with its camera. Expandable storage is also absent with this phone and therefore limits you to the 8GB on-board memory.
Several stores in UK and the rest of Europe are now selling Eluga. Prices start at £365 and it'll only be available in black with the silver model expected to ship next week. Although it runs Android 2.3.5 Gingerbread out of the box, Panasonic says they'll push out an ICS update for Eluga before the end of June 2012.