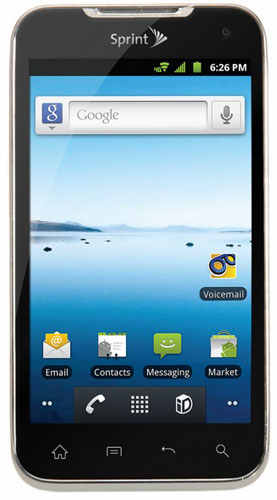 Verizon and AT&T have made themselves clear regarding 4G services in the US. Both wireless carriers are expanding their LTE networks to more regions in the coming months. While we haven't heard from Sprint, it seems they have something better in mind – unlimited data plans. Perhaps more interesting is the possibility that Sprint's unlimited data services cover LTE; and we thought seeing "unlimited" and "LTE" in one sentence was impossible in the US. Completing Sprint's press release is the announcement of a new phone called LG Viper. It will be the first 4G device launched by Sprint.
David Owens, vice president of Product Development in Sprint said in a press release "LG Viper pairs perfectly with our unlimited data plans to bring customers the benefit of new technology, including our upcoming 4G LTE capabilities at a great price." His words couldn't be any more clear than daylight. Hours later, a Sprint spokesperson confirmed our suspicions when they said LTE data will in fact be included in their existing "Everything" plans. That means you can enjoy as much 4G data as you want on Sprint's network, among other things.
Ma Bell and Big Red are at a disadvantage here since existing data plans limit their customers to a few gigabytes per month. The "Everything" data plan on Sprint already covers calls, texts, and 3G but now that Sprint is throwing in unlimited 4G connectivity, it's worth taking a second look. Hopefully, Sprint can manage to meet 4G demands without compensating internet speeds.
Sprint will start rolling out LTE in Atlanta, Baltimore, Dallas, Houston, Kansas City, and San Antonio. It should go down between next month and July since Sprint promised a mid-year availability. By third or fourth quarter, Sprint's 4G network will have expanded to more regions. In the following months, Sprint has a huge shot at catching up with Ma Bell and Big Red who Last week, Sprint came into agreement with Apple so they can release the LTE iPhone – possibly the new iPhone or iPhone 5 – at the same time as other carriers.