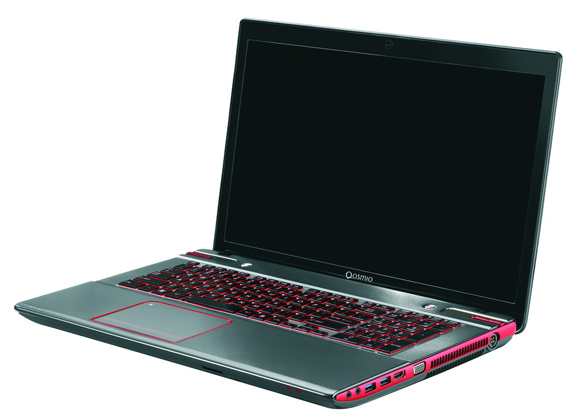 Toshiba has really decided to announce all their new products at once – along with the three new tablets, the Excite 7.7, 10 and 13, all of which look very nice (well, if you don't count the size of the Excite 13), the company has also set a release date for pretty much all of their updated laptop series this year: the new C, L, P and S series of mainstream laptops all look great and have very nice specs, as does the new Qosmio X875 gaming rig with the Ivy Bridge platform.
Design
All of these laptops have received a new design, with the C and L series being cheaper-looking with their plastic interior and exterior. The P and S series have an aluminum lid and palm rests, which makes them feel better to the touch and also improves their overall looks. The Qosmio X875 features a plastic housing with glossy finish and palm rest, which is quite nice, but some metal definitely wouldn't have hurt.
Hardware features and performance
The whole reason for the new lineup are the Ivy Bridge processors, which are present in all laptops and bring quite a few improvements over the previous Sandy Bridge, with the most important ones being the higher graphics performance of the integrated Intel HD Graphics (the new HD 4000 can even run Skyrim at medium settings with a playable frame rate), higher performance (up to 20% faster clock-for-clock) and lower power consumption (up to 50% less energy usage thanks to the 22nm architecture and tri-gate transistors).
The P and S series will also feature optional dedicated GPUs if you find the Intel HD 4000 too slow, and the Qosmio X875 has the top of the line NVidia GTX 670M inside, which should provide more than enough performance in games.
Specs summary – Toshiba's new laptop lineup for summer 2012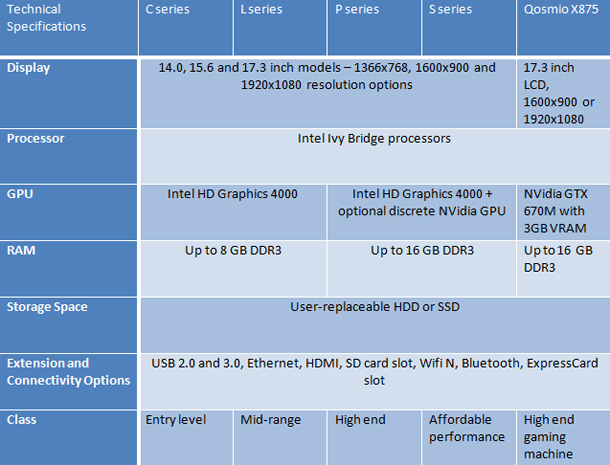 Price, availability and conclusion
All of Toshiba's new laptops will start shipping on June 24th, which is just two months after Intel officially announces the Ivy Bridge processors. This is just in time for the back to school season, and no doubt there will be a lot of people buying these laptops. The C and L series will start at $400 and $450, respectively, while the higher end S and P series will go for $700 and $800 for the base models. The Qosmio X875 is in a class of its own and you'll pay at least $1300 for it, but it's the best choice if you want to game on your laptop or use it for heavy 3D rendering jobs.
Toshiba has always made high quality products, but their last couple of laptop lines were frankly pretty ugly, even though they were reliable. The new C, L, P, S and Qosmio X875 all look great (no more glossy keyboards, thank God) and have enough hardware power under the hood to satisfy anyone.