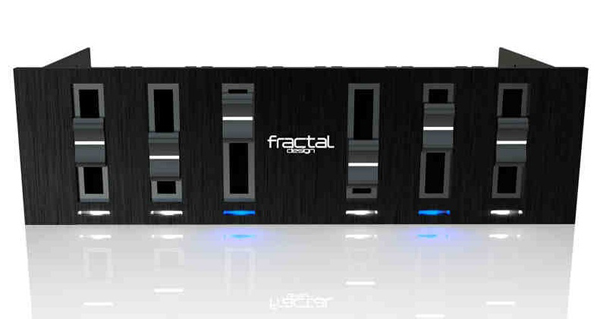 In the midst of graphics cards getting announced, Fractal Design unveiled Adjust 108, a six-channel fan controller for keeping computer hardware cool. As you may know by now, it can hold up to six fans in its aluminum body. Its design is rather simple, featuring a brushed aluminum front panel and smooth sliders. But there's more than meets-the-eye with Adjust 108 and its minimalistic approach in design.
All six fans in Adjust 108 are grouped in threes for better control. Although not obvious there are dual-color LED indicators beneath each of the six vertical sliders. These indicators help tell fan speed – white means low RPM and blue means a fan is running high RPM. LED lights also feature intensity jumpers, allowing you to adjust their intensity to 50% and 100% brightness or completely turn them off. Each of the six channels consume 36W. Meanwhile, the SATA-powered hardware only takes up one 5.25-inch drive bay.
Specifications
• 6 channels
• One bi-color LED indicator per channel
• Shifting LEDs with intensity jumpers
• SATA power connector
• Only use 5.25-inch drive bay
• 36W per channel
Included in the package will be four fasting screws, six fan cables, one SATA/MOLEX power cable, and the user manual. Of course, Adjust 108 won't be complete without the fan controller unit itself. Date of availability and pricing weren't detailed by Fractal Design but it should be available for retail anytime soon. The product is already listed in the company's official website.