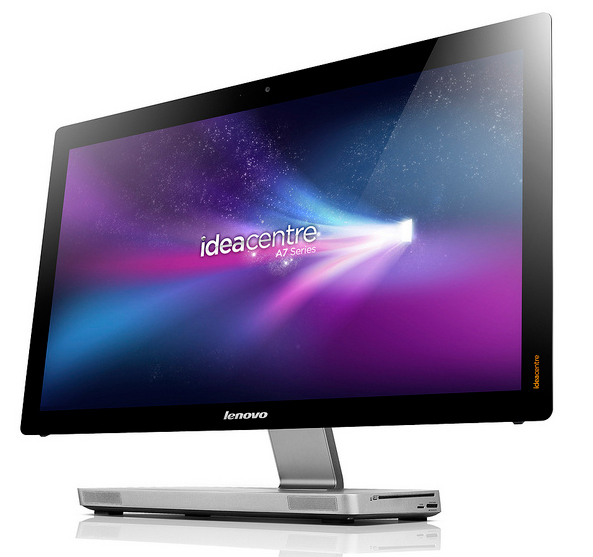 Toshiba Excite 13 is a monstrous slate with its 13-inch screen but even larger than that is Lenovo IdeaCentre A720. While they don't belong to the same category, A720 can still be used as a slate with its multitouch display. It isn't the first all-in-one (AIO) desktop released. Dell and HP also had champions of their own. Unfortunately, their optical touch screens lacked sensitivity. For starters, Lenovo doesn't make the same mistake by opting for a 10-finger multitouch capacitive screen on IdeaCentre A720.
The capacitive touchscreen enables it to respond to touch in the same way that a typical smartphone would. Its sensitivity is limited to your fingers or a capacitive stylus but that isn't so bad at all compared to a less-responsive optical touch screen. More so, it can detect all 10 fingers at once. Lenovo preloaded a variety of touch and multitouch applications into IdeaCentre A720 so you can take advantage of its capacitive screen. Two of the games pre-installed in the AIO are Bugs and Angry Birds.
Another advantage which A720 has is its fully reclinable design. With the help of a stand, the screen can be tilted all the way to the back so it becomes parallel to a flat surface. Competing desktops have screens that could only be tilted 30 degrees back which eventually proves to be difficult. It is accompanied by a keyboard and mouse which are surprisingly made of plastic. IdeaCentre A720 is all metal so when placed side-by-side with these accessories, the look tacky.
Specifications

Lenovo IdeaCentre A720

Dimensions
658 x 224.8 x 490.5 mm
Weight
11.6kg
Processor
Intel Core i5/i7
Operating System
Windows 7 Home Premium/Professional
Graphics
Configurable up to NVIDIA GeForce GT 630M with 2GB of graphics memory
Memory
2 to 8GB DDR SDRAM @1600MHz
Hard drive
500 to 1000GB @5400rpm or 1 x 64GB SSD
Optical drive
DVD +/- RW or Blu-ray ROM
Connectivity
802.11 b/g/n Wi-Fi, optional Bluetooth, Gigabit Ethernet
I/O ports
2 x USB 2.0

2 x USB 3.0

6-in-1 card reader

HDMI-out

Headphone and microphone jacks

Optional TV Tuner