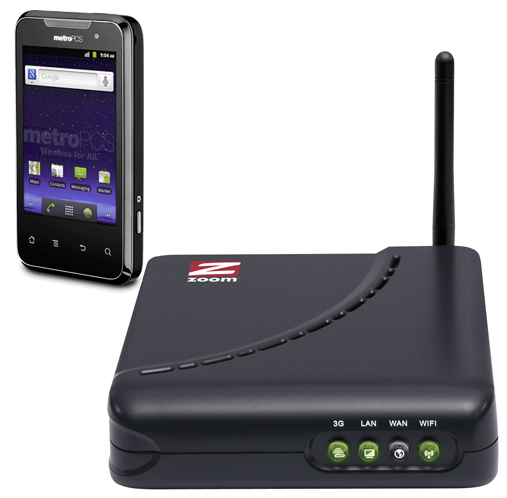 The ability to turn your device to a WiFi hotspot is an invaluable feature of Android. Problem is most carriers restrict mobile tethering so you either have to live a tether-less life or apply for a tethering plan. Of course, you can always root your device but that's not even an option considered by some – maybe many of you. ZoomTether is a new app that lets you tether mobile data from your phone to compatible Zoom broadband routers. Rather than using your device as a mobile hotspot, it lets you connect to Zoom 4501 or 4506 and tether data to other devices from there. The trick works on AT&T, Verizon, and other carriers that don't allow free tethering.
How does ZoomTether work?
So how does it work? It all starts with your monthly data plan. Unless you use your device as a mobile hotspot, your carrier won't charge extra fees – generally around $20 a month – for mobile tethering. If we add ZoomTether into the equation, you can benefit from mobile tethering without having to pay these additional fees. Instead of tethering directly from your device, the app spares it from this battery-consuming task by tethering data to compatible Zoom Wireless-N routers. As a result, you can use either Zoom 4501 or Zoom 4506 to tether data from your phone and connect multiple devices to the internet.
What are the advantages of ZoomTether?
We've pretty much covered most of ZoomTether's advantages. One is that it'll save you from those ridiculous mobile tethering fees. Another is that it'll help conserve your phone's battery since tethering directly from it will drain it dry within hours. Third is that it allows you to simultaneously connect several devices to the internet. Still, it has a few more perks up its sleeve.
For instance, ZoomTether is a perfect companion for travellers. With it, you get to have WiFi connectivity wherever you go – while relying solely on your mobile data plan, of course. This is possible with Zoom 4506 since it has a rechargeable battery but not with Zoom 4501. Both models offer wide coverage and extend WiFi signals by up to 330 yards. Androids have limited coverage areas.
Is ZoomTether compatible with my Android?
ZoomTether is compatible with devices running Android 2.2 Froyo and higher.
Where can I get ZoomTether?
The app is not available for download at Google Play. You need to download it using your compatible Zoom router and transfer it to the phone afterwards.
Will my carrier notice and charge me for mobile tethering?
According to Zoom Telephonics, the possibility of your carrier noticing is "unlikely" but possible. If they do, they might charge you $20 a month for the tethering plan but Zoom maintains it is unlikely to happen when using ZoomTether.