Mobile technologies are getting more sophisticated and cheaper at the same time, and it's nearly every day that you hear about a new product being released or patent being granted in the industry. There are plenty of devices that have a lot of useful applications, and some are just plain cool. Below, I've compiled a list of some of the most interesting technologies and gadgets for the past month in the mobile sector:
Sony's Exmor RS camera sensor brings more megapixels and HDR video to Xperia phones


Sony has announced a new line of camera sensors for smartphones – the Exmor RS series, which is of course the successor to the popular Exmor line, used exclusively in Xperia devices, obviously. Exmor RS brings enough new technology inside to make it a worthy upgrade. The modules are composed of stacked CMOS sensors, which basically means that for an 8 megapixels camera, you actually have two superimposed sensors generating a higher quality image. Obviously, this allows for a very high quality if pictures and videos to be achieved, as evidenced by Nokia's huge 41 MP PureView camera. Exmor RS also incorporates HDR video recording, which judging from the test samples, looks a lot better than pretty much any other smartphone or even dedicated compact camera.
Synaptics' ThinTouch is 50% thinner than any other keyboard, has better backlight as well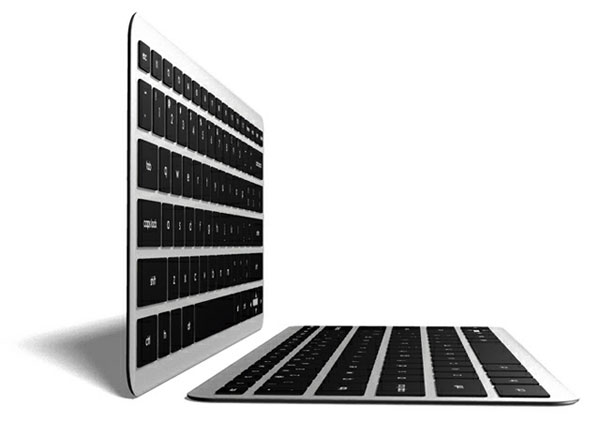 Synaptics is the giant of the touchpad industry, and it's pretty much unrivaled, unless of course you count Apple's exclusive touch pads (which are actually much better). Instead of perfecting their touch pads or drivers, Synaptics has opted to diversify and is entering the keyboards niche, as well, with the new ThinTouch keyboard.
ThinTouch is meant for Ultrabooks and tablets, and is 50% thinner than any other hardware keyboard on the market. The key travel is very shallow, but the experience is much better than with smartphone-style rubber keys, and there's an added advantage for backlight, which is better due to the close proximity of the keys to the LEDs.
General Imaging iPico turns your iPhone into a mobile pico projector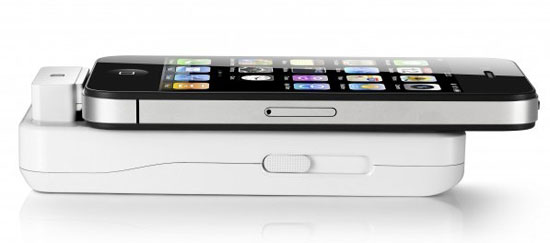 If you're in a line of work that requires you to demonstrate things to other people using a projector and you've grown tired of carrying around a dedicated pico projector with you all the time, but still don't want to give up your iPhone in favor of say, the Samsung Galaxy Beam, then General Imaging has something you will like: the iPico accessory, which is a compact iPhone dock that turns it into an easy to use pico projector! The device is very small and light, and it's definitely easier to use due than a separate projector – all the work is done right from the iPhone's screen!
Quickdraw brings speed and style to traveling pro photographers
If you're a traveling photographer, you know that carrying around and using multiple lenses with a dSLR can be a bit of a pain. Quickdraw aims to make that easier with their new holster, which is clearly inspired by pistol holsters (it's even in the name!). Using the Quickdraw holster, you can carry multiple lenses on your belt or pants, being able to exchange any one of them in just a few seconds – the experience is pretty cool, too.
SuperTooth DISCO 2 is an affordable stereo Bluetooth speakers set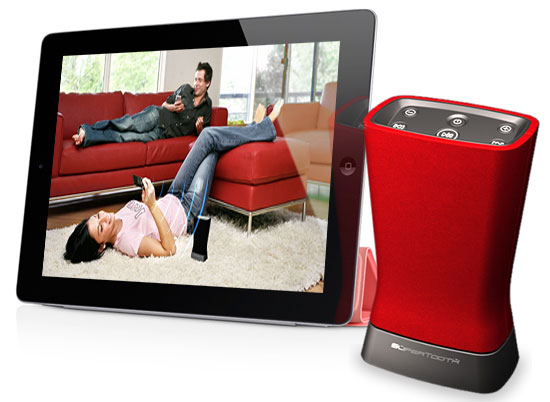 SuperTooth's DISCO 2 Bluetooth speakers will appeal to anyone who wants a nice, compact, wireless audio system that can still provide enough volume for comfortably listening to music or even watching movies. The $99 speakers have built in batteries that can last several hours of continuous play, as well as the ability to receive an audio signal via a standard 3.5mm audio jack and work as stationary speakers with the included charger.
Obviously, the above five are by far not the only interesting things to write about, but if I had to list them all, I'd have to write a whole book, which is not easy :-). Be sure to check back often for more news and information from the fast changing industry!