If you were just about to get rid of your old iPod nano 6G, you might want to rethink: With the kit 1 from digems your mini mp3-player morphs into a locket that fits any kind of band; from delicate silver necklaces, to wallet chains or rapper-style bling. The best thing about this freshly-created novelty: It attracts attention to itself and the wearer – at night too. According to individual style, images are projected on the nano's luminous display. You can use your own library of favourite photos and designs or help yourself to the ones available on the comprehensive and – get this – free digems download platform.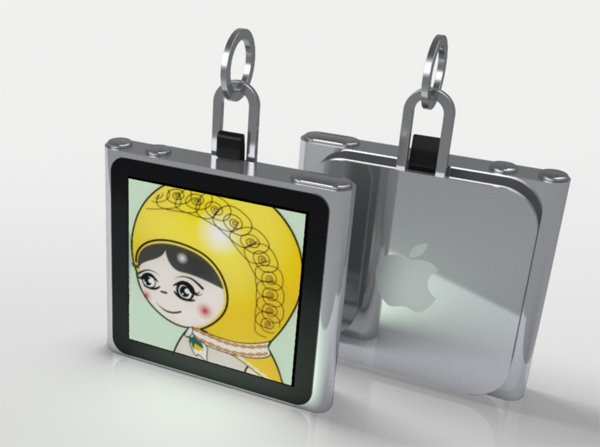 Kit 1 doesn't change the look of the iPod nano 6G, instead accentuating and making it classier still. All functions have been retained and are selectable. This is down to using the best materials and "made in Germany" manufacturing. The mounting is made of tumbled stainless steel and high quality plastics, which are produced with the utmost precision whilst observing fair labor conditions. Despite all this the kit goes over the counter for just 17 euros plus 4.50 delivery, about 28 dollars.
digems is the brand of suolocco designer Andreas Ullrich. Hence the first designs on the digems' upload/download area are from this Munich-based creative pool. digems would like to encourage users to share their designs on its platform and to enter into an exchange between creative enthusiasts and gadget geeks alike.
You may watch the video from digems – wear your iPod!