If you haven't already heard, Google Reader, the most popular and most used RSS feed reader in the world (its backbone Feedfetcher service is also used by standalone apps), will be shut down for good on July, 1st, this year.
This news came as a shock to many people, and it's understandable – unlike many other services that Google has taken out of commission in the past years (including the Google Translate API, iGoogle, Google Wave, Knol, Labs, Gears, Health, Buzz and others), Google Reader is actually used and loved by its users, and it doesn't seem to take that much of a toll on the company's resources – I mean, it's pretty much maintenance free, and Google has more than enough processing power to process and store the relatively small amount of data that the RSS feed links require.
Google's reasoning for the shutdown is that the user base of Google Reader is declining and they want to focus on fewer products that make up their core business – I guess that makes sense, but Reader was as much a core product as the rest of them, in my opinion – they should start charging a monthly fee to keep it going instead of just obliterating it.
This is big news for both users of Google Reader and webmasters alike, by the way. Most people use Google Reader to subscribe to RSS feeds to get the latest posts and information from blogs and websites, so the owners of those sites will suffer a drop in readership when Reader goes down. Users of Google Reader will also lose all their feeds and custom data (it can be retrieved, though).
Website owners will have a tougher time with this – the only thing they can do is inform their readers about the change, and urge them to subscribe using other services or software. Thankfully, there is plenty of time to do that.
On the user side, things are better, since Google is providing access to all the feeds and data through Google Takeout – you can download all of your data (from any Google product, not only Reader) in a relatively easy to read/import format. Afterwards, it's a matter of setting it all up with a new service or program. There are plenty of RSS readers online, actually – but if you've only been using Google Reader, you might not know which one to use and more importantly, which one to trust. To help you with that, here is a small list of my top picks for a Google Reader alternative:
NewsBlur
NewsBlur has been around for a pretty long time, and it doesn't look like it's going anywhere. It has a nice interface that is simple yet effective, and you can organize the feeds by folder and category, as well as share anything worthwhile with the push of a button. The service offers a premium account that has unlimited sites and private shares, which may be worth it for $24 a year if you decide to stick with NewsBlur.
Feedly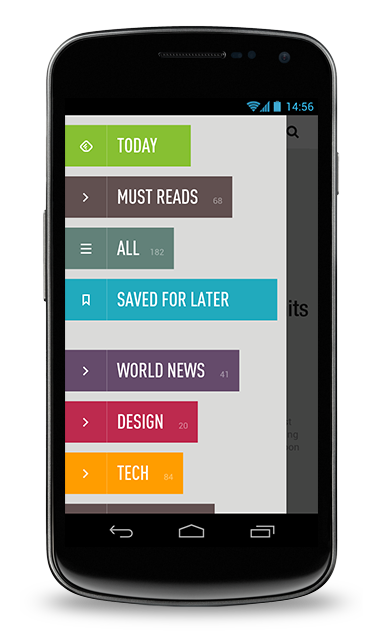 Feedly has been quick to capitalize on Reader's demise, and over 500,000 people have already switched to their service, according to them. Feedly started as an iOS reader app, and has extended to Android, as well as Firefox, so you can read all of your favorite RSS feeds in a nice interface pretty much anywhere, while having them synced across all your devices.
Fever
Fever is probably the most intelligent reader on the list – it lets you read only the most important stuff from your RSS feed list (you can of course read all of the posts, too). The app shows you only the posts that have most comments, ratings, are most reposted or talked about – that way, you can keep up to date with what your circle of people care about, while not overloading yourself with unimportant information. Fever is self-hosted, which means that you'll never lose it as long as you have a hosting account, however that may be inconvenient if you're not already a webmaster.
Bloglines Reader
Bloglines is one of the few readers that has been around since before Google Reader – it's been acquired by another company, but they did keep it active and up to date. It lets you do pretty much everything you can do on Reader, minus the Google integration of course. It's a great free RSS feed reader if you can get over the lack of mobile apps and the slightly outdated interface.
The Old Reader
The Old Reader should see an influx of users by the end of spring – it was created as an alternative to Reader when Google radically changed its design and decided it needs to be more social. The Old Reader has a nice UI that will make you feel at home and offers most of the features that you may already be used to – it's also the perfect switch if you want to import all your feeds from Reader without much hassle.
The above five services are the best alternatives for Google Reader – and in many ways, they're even better. Try them out and switch as soon as you can – you may miss Reader the first few weeks, but at least you'll still be receiving the latest news and useful information via RSS uninterrupted – and in the case that Google changes their mind, at least you'll have a very good backup strategy.