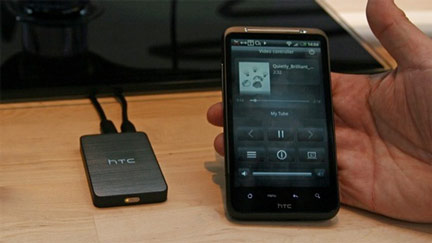 Since most older HDTVs do not support DLNA ,  HTC  released a device, codenamed Tube, which adds DLNA functionality to existing HDTV sets.
Most new Android phones now have built-in DLNA support , which allows users to stream audio, pictures, and video to their HDTV wireless.
The Tube device connects to any (even older) HDTV that has a HDMI port. Once plugged in, users can connect their phones to the Tube wireless and then share all their media on the big HDTV screen. The Tube device was designed to work with HTC phones running the new Sense UI, but it should work with any Android phone that has a DLNA support.
If your phone does not currently support DLNA, there are few apps in the Android Market like TwonkyServer Mobile, Remote Media BETA, and iMediaShare that can add the same functionality free of charge. Game consoles like the Xbox 360 and PS3 also support DLNA if you are looking for another way to hook up your phone to a TV.
Traditionally, HTC has used Qualcomm CPUs in their smartphones, but interesting thing about Tube device is that HTC using the 1 GHz OMAP3630 processor from Texas Instruments, which means that HTC is open for business with different hardware manufacturers.
Unfortunately, there is no price information for HTC Tube device at the moment.
Source: AndroidandMe