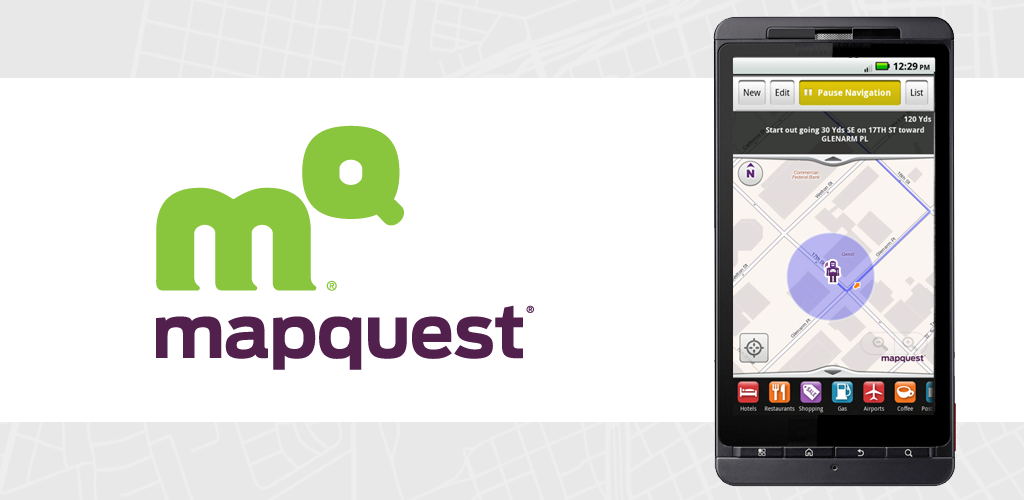 MapQuest announced a new, free Android app that will enable users to find their destinations with the assistance of voice guided navigation. The new application features OpenStreetMaps allowing users the opportunity to add unique information regarding local maps and information pertaining to local, community based directions. In an announcement today it was stated that an estimated 1.4 million Android users will have access to the application free and without the need to buy, try or subscribe to anything.
The Android app includes voice guided, turn by turn navigation that will enable your cell phone to speak and guide you by telling you when and where to make turns. There is also a voice search capability which lets users say their intended destinations in order to get directions.
The application features a map toolbar which gives users one click access to find restaurants, gas stations, parking, coffee shops and more. You may even get the best and fasted direction for walking and driving as well as updated information regarding traffic sent to your phone in five minute increments.
MapQuest Senior Vice President and General Manager Christian Dwyer released a statement, "We are thrilled to launch international capabilities on the MapQuest for Android application. For maps and directions outside North America, we default to a navigation experience on open data, allowing MapQuest users to play an active role in improving the depth and quality of the map."
The Android app became ready for download today for both Android web based and mobile devices. MapQuest stated that approximately 8.6 million people use MapQuest's mobile website and recent studies indicated that Android is the second best selling smartphone worldwide.