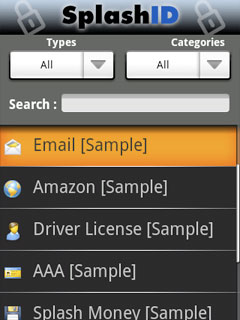 SplashID acts as a universal, secure data-storage utility for web user accounts and passwords, points clubs, birthdays and much other data. It keeps a password file on your Android device that's encrypted with the 256bit Blowfish algorithm, one of the most secure (and speedy) available.
At $10, SplashID is one of the pricier apps in the Market, but it surpasses the other password-manager apps we've seen in both versatility and features. Having set a master password, you create accounts, grouped under categories such as 'Serial Numbers' or 'Web Logins' and classified as Business, Personal or Unfiled, with a choice of 55 custom icons for easy identification at a glance.
Each entry can have a URL, username, password and several customisable items.
The $20 desktop version lets you wirelessly sync your info with a Mac or PC, which saves you bashing away at the onscreen keyboard and gives you a non-mobile backup of your passwords and other important data if you lose your handset. It's a shame wireless sync isn't an entirely automatic process, and requires you to know the IP address of your computer. But that won't be a big hurdle for most users.