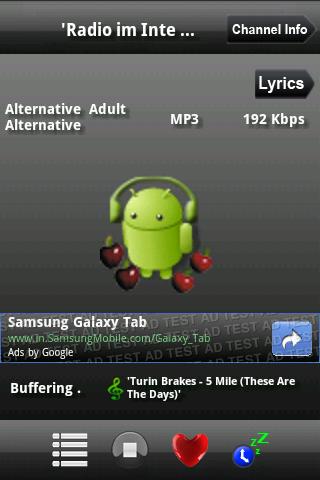 Cherry Rplayer
Free
You don't have to be a jet-setter to groove to Santa Monica's KCRW in the morning, bop with BBC Radio 1 through the day and bounce to J-pop all night long on Colom¬bia's TokyoNext radio. You just need Cherry Rplayer. This app can play Shoutcast, Ice-cast, AAC, MP3, M3U, PLS, AACP and other internet radio streams, and will download track, artist and song lyrics on demand.
Despite the odd name, it's far superior to its closest rival, StreamFurious. Four tabs help music fans navigate through the options, which include the ability to drill down through radio stations by city and search or browse through stations promoted via Shoutcast or Icecast. When you find a station you like, click the heart icon near the foot of the screen to add it to your Favorites, which appear under a tab of that name. If you forget a station's name, you can view a history of streams you've visited before.
It's not the player's fault, but the jam-packed US radio market isn't quite as well represented as you might hope in the US Radio tab, and the listings are cluttered with AM talk radio stations. If you know of a station and it isn't listed under its city, try the search function on the World/Live tab; you can usually find it there by its call sign.