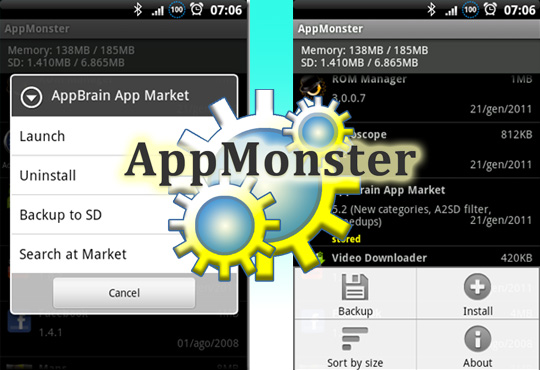 Free software.
AppMonster puts several key file management features at your fingertips. As an app backup tool, it can either copy individual apps or copy every app on your phone (those that don't have their 'prootected' flag set} to your microSD card for safekeeping. It also displays info on your installed apps, including version num¬bers, the date each app was installed, whether it's copy-protected, and both the total and the free storage space remaining on the phone and the microSD card. For a free, 99KB app, that's pretty impressive.
AppMonster lets you sort the list of apps by name, size, or the date the app was installed (in reverse, so the newest apps appear at the top of the list). In the main window, each installed apps icon and name is accompanied by the version number, installed size and date of installation. On our Gl's display, about five apps fitted the length of a screen in portrait, or three in landscape. You can click any app in the list to launch, back up or uninstall it, or search for upgrades in the Market.
CALL FOR BACKUP
The backup feature is AppMonster's biggest strength. You can opt to back up only the new apps or everything (overwriting the same file if it's already backed up). Not sure if a new feature in an app's upgrade might cause a problem? Back up the existing version first, then revert to it if necessary. Restoring backups is as easy as choosing the Install option, then clicking the app – but you have to do this for each app. Installing from the microSD card is faster than downloading, but you first have to change an OS option that lets you install apps from the memory card.
For $1.50, AppMonster Pro adds extra features including the ability to share your app list with other Android users and batch-install more than one app from the SD card at a time.
If you frequently perform a factory reset on your phone (which wipes out all your apps), or you're a system administrator who needs to install a group of apps to several phones at once, AppMonster could be a valuable time saver.