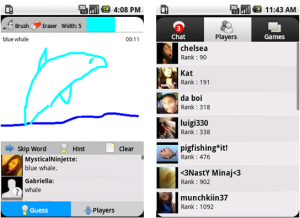 Free
Few multiplayer games are available for Android, but Sketch Online, which is rather like the board game Pictionary, ranks among the most entertaining. You can even play against iPhone users. Hah!
Up to ten people compete in a 'room' dedicated to a difficulty level (for example, 'English – difficult'} or subject matter (such as 'Animals' or 'TV Shows'). You can also interact between games in a busy live-chat lobby'. A Synchlet account is created to track your activity and settings. Players can upload pictures as avatars and create public profiles with other details they wish to share.
The heart of Sketch Online is the gameplay, which is fast, furious, and often unpredictable. Each player gets 90 seconds to draw a picture of a given word using a 'pen' that traces lines of user-selectable thickness where you touch plus tools such as 'circle' and 'square'. The others must guess the word. Its fun, but the app's makers still describe it as 'beta' and we can see why: a number of serious bugs remain in various areas. With these ironed out, it would be a great Android game.