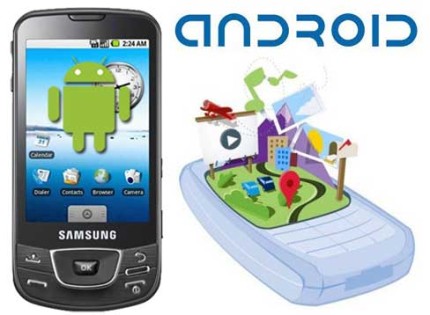 Your mum may think that the iPhone is lovely, but it's set in its ways: no freedom to change. I, on the other hand, can do what I want. I can play Flash videos. I can wear a new keyboard one day, become a bad-boy PlayStation emulator the next or stay as I come, which is pretty darned good anyway. The iPhone abides by Apple's strict laws, I'm limited only by your imagination.
Flagship Handset
Google Nexus S
£430 google.co.uk/nexus
This Samsung-made phone is a thing of minimalist beauty, and the buttonless case and subtly curved 4in screen are the perfect stage for Android 2.3 ('Gingerbread'). The new OS isn't packed with new features, save for a better keyboard and enhanced copy-and-paste, but it looks classier and has major under-the-bonnet improvements that make it a lot faster. It's lag-free, too, thanks to the graphics chip built into Samsung's 1GHz Hummingbird processor. There are still a few frustrations, such as the way the 16GB storage is split to give you just 1GB for apps, or that while the 5MP camera is great in low light, video shooting is at a less-than-HD 720×480 pixels. Still, the 4in Super AMOLED display is bigger and brighter than the iPhone 4's, although it can't match Apple's razor-sharp resolution. It's also the first smartphone to feature near-field communication, meaning it can read RFID tags and could be used as a cashless wallet or travel card once NFC apps become available.
Alternatives:
LG Optimus One
A remarkably good value Android phone. The 600MHz processor won't win any races, but it still performs well and runs Android 2.2, which means it offers free sat-nav and Flash.
HTC Desire HD
With a vast 4.3in screen, 1GHz processor and Android 2.2, there's little to choose between this and the Nexus – though some will favour HTC's weighty build and slick Sense Ul.
Motorola Atrix
The 'superphone' packs a dual-core processor, 1GB RAM and the crispest screen of any Android. Attach it to its netbook or desktop docks and it becomes a computer.
Top Android Apps
Dolphin HD
free
Currently the best browser for Android, it offers fast multi-tab browsing, gesture controls and powerful third-party plugins to block ads, download videos and more.
Swype
free
Swype takes the pain out of using a virtual keyboard; instead of tapping letters, you slide to make an approximation of the word and let the app do the work. Uncannily accurate.
Gensoid
£2.26
Find yourself some classic Sega Megadrive ROMs and this emulator will play them -from Sonic to Speedball – at full speed. You won't find anything similar on the App Store.