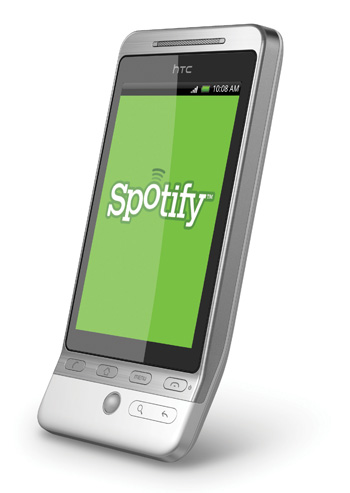 Spotify has quickly become one of the most popular music streaming services around. It comes in a free, ad-supported version, a version free of advertising interruptions, and a mobile version that allows you to download playlists from the desktop application and play them on your smartphone in offline mode. This last service costs £9.99 a month, so you'd need to be a fairly committed music fan and make extensive use of its library.
Spotify also suggests that this is a useful option if you're traveling abroad and want to be able to access your favorite Spotify albums: just download them to your Android device before you go.
A similar principle to Napster's streaming service applies to accessing your stored Spotify tracks: you have a full month to listen to a downloaded track before the service checks that your subscription is still active. You can also synchronise your library with up to three PCs or Macs.
Sensibly, playlists and albums download only when you have a Wi-Fi connection, saving your 3G data allowance and battery life. Music can be streamed over a cell network connection as well as Wi-Fi.
Another advantage of signing up for a Spotify subscription is that you can access new albums before they become available to users of the free service. As with Shazam, sharing is a big element; you can create a playlist and share it on Facebook or Twitter, via email and so on.
Spotify's music catalog is broader than some, so you're not stuck with Katy Perry and Take That but can rediscover alternative gems from your youth. The only real issue we have with the Android version is that support for hardware is more limited that we'd have expected.
Of the eight Android devices we had to hand when we came to try out Spotify for Android, only three – the LG GW620 and the Sony Ericsson Xperia models – proved to be compatible with it. As of December 2010, 20 Android devices were supported in total.
photo techworld