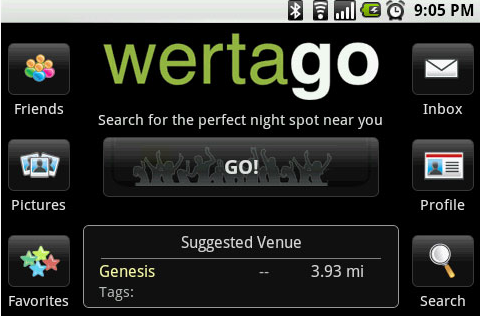 FREE
Bored? Single? Need something fun to do? Wertago ('where to go') is a location app that pulls up all nearby venues and events and incorporates social networking aspects so that you can post Tweet-like messages, find friends or 'coordinate a meet-up'.
The listings of local nightlife include distance, tags and ratings; clicking an item brings up the address and phone number as well as an option to add an event at that location or announce that you've arrived.
You can add your own tags and photos, see who's tagged it as a favorite place, and read posted reviews.
The default view covers a large area, so we often had to zoom in. Flipping back and forth between the Venues, Events and Filter tabs have a glitches and we hit some errors.
Wertago's social features help you connect with others at venues, and you can set up a friends group. 'Pulse' shows who likes what near you, based on the details you give in your profile; if you don't register, not all features will work. For the more adventurous, this could become an essential app.