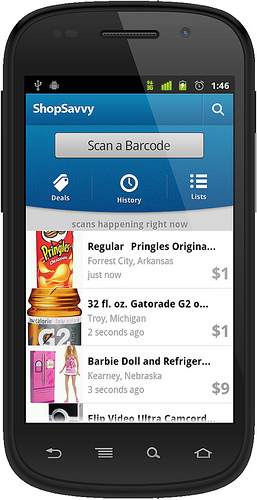 If you're an entrepreneur who has his own small business or just a person who likes to watch out for any unwanted expenses and write down any income, one of the first things you'll probably want to do after getting a new Android-based smart phone is find good apps that can help you manage your finances from anywhere and be always with you in your pocket.
And you will most definitely find them! There are a lot of completely free apps on the Android marketplace, as well as paid versions if you need more features. Here is a small list of the best Android applications that can help you keep your money in check and save them whenever possible.
Loot. This is a nice, simple and completely free Android app, which was created to help users keep track of all the money they spend, receive and currently have in their bank accounts or cash. It's very secure, even more so because it doesn't have a direct connection to the users' bank accounts, although a lot of people see that as a drawback. It is easy to add new entries into the application, so you can do it fast whenever you buy anything from a local store or any other place. Now you can leave and forget your old paper check book (if you ever had one), and replace it with a nice application on your phone, which is most probably always with you.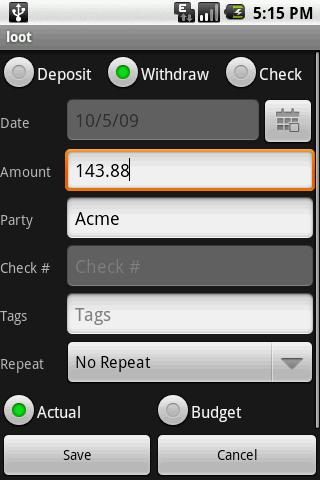 DroidSense. This is a great tool to have if you own a site or blog and earn money from Google Adsense. It helps you view and analyze your AdSense earnings and performance (impressions, clicks, click through rates, etc.) straight from your Android phone. If you love viewing stats (which is especially great when you're earning a lot of money 🙂 and trying to increase your Adsense income by making your ads better and improving your click through rates, you will most definitely find this application very handy. The only bad thing about it is that it's not free, but it's completely worth the 2 dollars the developer asks, especially when considering the guaranteed, fast customer support.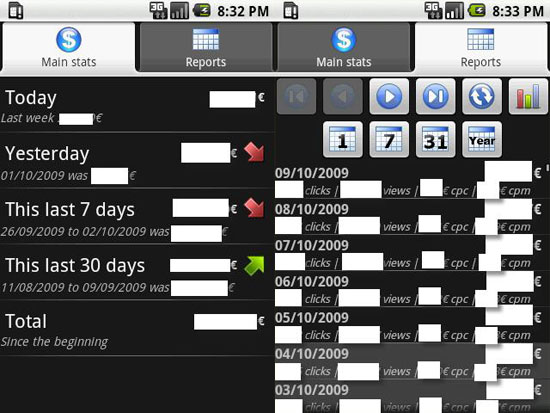 My Coupons. This is a great Android app that helps you manage your coupons that is also completely free. But managing coupons is not everything it can do, not by a along shot! It also has an integrated search feature that you can use to find valid, useful coupons from the best online coupon providers. You can share your coupons with anyone using Twitter, Facebook or email, straight from the application's interface. And if that was not enough, you can also use the GPS feature to find any working coupons (you can even use the integrated voice search, which is possible thanks to Android) for the shops that are close to you and compare all the prices by scanning the barcodes. And did I mention it is free?

Pocket Auctions. This is a great application for Android that brings eBay to your pocket. With it, you can search, view and buy anything, place bids, view your account and do so much more! This can be very useful when you are away from your PC, yet you need to watch an auction closely to place the last bid to win it when it's ending. With this application, you can see the timer and easily make a bid at the last second (nevertheless, this will require a stable Wi-Fi or 3G Internet connection). Best of all, it's totally free!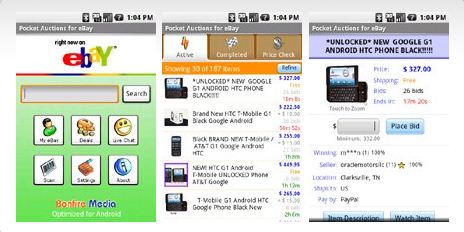 ShopSavvy. This is an amazing Android application that was specifically designed to allow you to search and find the best price on any product you need. It works simply – you just take a shot of the barcode located on the product you want (using your phone's integrated camera) and the software automatically searches a few top online sites for the best prices. It will then show you the nearest locations and shops where you can find that product at the lowest price possible. It will help you save quite a lot of money sometimes, like when you want to buy a new laptop – chances are high that a shop a few blocks further has a sizable discount of a few dozen or hundred dollars.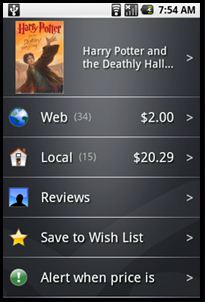 There are lots of other apps for Android that can do what the above 5 do, but many of them aren't free or lack some features. The ones listed in this article are the best choices that will help you save and manage money, voted most popular by users and maintained and supported by the developers.