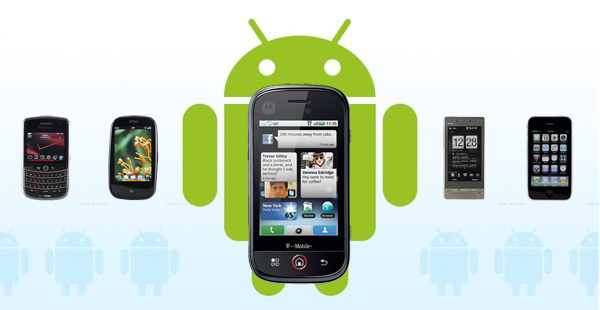 If you are a happy owner of an Android device or just plan on getting one, you might not yet be aware of the huge collection of amazing apps available on the market place. Many of them also don't have dedicated sites and are not as heavily advertised as some iPhone apps, for example, so they're pretty hard to find if you don't know their name to begin with.
To help you get started, here is a list of the best Android applications that you just have to check out the moment you get your new smart phone. They will definitely improve your life and experience with the Android phone and the OS itself.
Advanced Task Killer. Unlike the iPhone and Windows 7 Phone, Android phones have support for multi tasking, which means you can have more than a few applications open at the same time (for example, this is very useful when talking on the phone while recording the conversation and taking written notes with an Android notepad). But this great feature has one small but important problem – applications can sometimes remain open and hog your phone's processor time and memory, which can not only lead to a slow and sluggish interface, but also drain your battery much faster(Windows Mobile users know about this drawback from first hand experience).
Normally, the apps remove themselves from the memory after they're closed, therefore freeing it, but sometimes, due to bad programming and various errors, they remain open and need to be flushed from the memory by force. ATK does exactly this. Using it, you can see all of the running programs and "kill" the ones you don't use. The commercial version also has an "auto-kill" feature that will close all unused apps after a set time, unlike the free version, which lacks this feature.
Astro File Manager. After downloading and installing a few dozen or maybe hundred 🙂 great Android applications, you might find your device is running out of space. With Astro File Manager, you can easily backup any unused apps to your SD card. You can not run them from there, but you can easily exchange them with those that you're not currently using. The app also gives you a nice detailed view of all the running programs and their resource usage, so you can kill the ones you don't need. It is a bit more difficult to use for this purpose than ATK, so the best way to go is to install and use them both.
Astrid. This is one of the best To Do lists application. At the first start, it seems like a very simple task list application, with the options to create, edit, mark complete and delete any recorded tasks. But the application actually has a lot of advanced features, if you're not satisfied with the basic ones. They're all neatly hidden under the menus, so you'll have to familiarize yourself with them first. You have the options to set task priorities, assign tags and dates, set up reminders, keep track of how much time you spent working, and much more. Plus, in a true Android and open source tradition, Astrid is completely free!
Google Voice. This is a great application from Google that comes pre-installed with a lot of Android phones and can also be manually installed on a number of other devices. Google Voice gives you the possibility to perform cheap international calls and send SMSes using a Google Voice real number, receive calls from anyone in the world at inexpensive rates, read, listen and translate the voice messages using Google's very neat transcription feature and Google Translate, plus a lot of other things. If you're wondering, you can actually do all of the above using a Wi-Fi connection, so you can speak with anyone in the world at even cheaper rates without using your cell phone operator plan, using any Wi-Fi hotspot at home, university or college campus or a street café.
LauncherPro. One of the great things that come with owning an Android phone is the ability to fully customize and personalize it to fit your individual liking. This is possible because of its Linux origins and open source code, and is a nice feature that you must definitely put to good use. If you ever owned an iPhone and wished that you could radically change the look of the home screen and the interface, you'll really like LauncherPro. With it you can completely personalize your interface and home screen, and do it manually or using already existing themes and styles that were submitted by the tens of thousands of users and developers that use this app. It's definitely a must have application.
There are many more useful applications for Android, like the ones above. You just have to learn how to search and find them, as it's not always as easy as searching for keywords. For starters, try getting and installing the above apps, check them out and see how you like them.