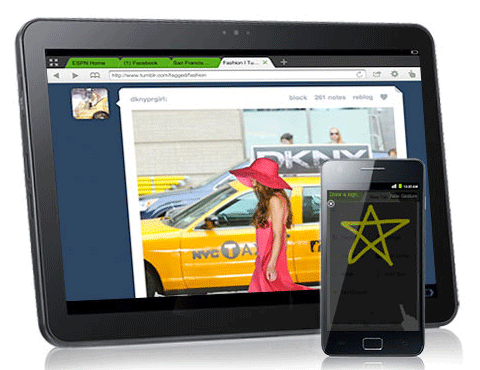 Android is among the top 3 operating systems on the mobile market, and thanks to Google's relentless pursuit for improvement and the half dozen or so major manufacturers that keep churning out devices running the OS, Android is set to become the most popular operating system by the end of 201, by far surpassing iOS in the number of users.
While the current android 2.3.5 is pretty good, especially in the user interface department, with the next 4.0 Ice Cream Sandwich bringing even more improvements, it's still a vanilla install and the manufacturers expect the users to customize their phones using the over 200,000 apps on the marketplace. With just a few apps, you can significantly improve your Android phone and your overall smartphone experience, and here are my top recommendations:
Google Docs. The latest Google Docs app for Android has been redesigned and improved, gicing the user much better control over their documents, which are stored in the cloud on Google's servers. You can seamlessly write documents and edit them using Google's free service, and they're constantly stored and synced on the remote servers, so you'll never lose your work. The new app also looks very nice, with a modern minimalistic design that will help you focus on work.
Dolphin HD. While the default Android browser is very good, it does lack a few features and is more of a mobile version than the usual tabbed browser we're used to on desktop PCs. Dolphin HD brings everything that's good about desktop browsers to your Android phone, including tabs that are immediately visible, scrollable and clickable, support for Flash videos in the window itself (no more opening the separate app for that, even on older phones), and most importantly support for plugins and themes, which significantly extend the browser's functionality and let you customize it to your liking.
Handcent SMS. The default Messaging app in Android is sadly lacking any advanced features beyond the usual send/receive messages and threaded conversation (even then, I can't figure out how to send a new message without deleting the current thread in Gingerbread). Thankfully, you can (and should) replace it with Handcent SMS – the most advanced messaging app for Android. It allows you to customize the way your threads look, save them for later, send video/audio/image attachments, send group messages, set unique ringtones for individual contacts, hide selected messages in a password protected folder, and a lot of other cool stuff.
Winamp. Winamp is still the most popular music (and video) player for Windows and it's been available for Android for quite some time now. The basic version is free and it's the only music player you'll ever need on Android. It's fast (scans hundreds of songs in minutes), allows you to search songs by keyword (which is very important and useful), create playlists, list songs by artist/album/song name/etc., find artist info and song lyrics, and much more.
Beautiful Widgets. Widgets are the most visible part of an Android phone, and the default ones get pretty boring after a while – you need to get something new and prettier. Beautiful Widgets is just that, a collection of very nice widgets for most purposes, which will look good and unique on your home screen.
Android is a great OS as it is and owning an Android phone is nice, however with just a few taps and maybe a few settings configuration, you can get much more out of your Android handset and have a better smartphone experience overall – check out the above apps and see for yourself!
image source: dolphin-browser