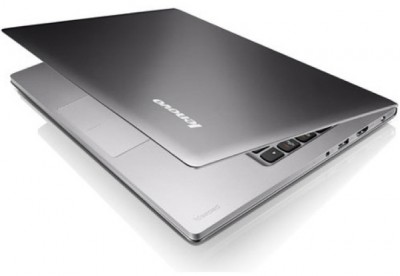 Lenovo has shown off quite a lot of devices this year, and among them, there was only one true Ultrabook, the IdeaPad U300s. That definitely is not enough to compete with the slew of other devices out there, so Lenovo also introduced the U300e – a cheaper, slightly thicker Ultrabook that has a unique feature that makes it more attractive than a lot of the competition, even though its base configuration is a bit behind when it comes to performance.
On the outside, the IdeaPad U300e looks pretty much like Lenovo's other ultraportables that they demonstrated at this year's CES – the design reminds a lot of the MacBook Pro, although the U300e has a sandwich build instead of an unibody. That doesn't make it any less sturdy, though, and it will undoubtedly hold up to any kind of daily use and abuse. The laptop is thicker than the U300s at 0.7 inches, and cheaper as well – the reason is the SSD + hard drive combo, which in my opinion is even better than even the 256 GB SSD on the top U300s configuration.
The base configuration of the U300e has a 500 GB hard drive and a 32 GB mSATA SSD providing both speed and a lot of storage capacity, and even if Lenovo doesn't offer better configurations (and it seems that they won't), with a bit of work, users can replace the SSD and HDD on their own – this is perfect for anyone who wants to have a speedy Ultrabook but doesn't want to give up the massive storage capacity that hard drives provide.
The 13.3 inch display is your usual fare for an Ultrabook – it has a 1366×768 pixels resolution, which is borderline useful for work, although Web browsing and playing games is quite comfortable. The colors, contrast and brightness are decent, but nothing spectacular – then again, the same can be said about all the other cheap Ultrabooks out there.
Performance wise, the IdeaPad U300e is behind the competition for the sole reason that Lenovo doesn't offer a higher end configuration. This Ultrabook only comes with a Core i5-2467M processor with the integrated Intel HD 3000 graphics adapter, 4 GB of RAM and the above mentioned SSD and HDD. That's enough for most daily tasks, but it will get a bit slow under more intensive loads like Photoshop or heavy document editing. Still, for the price, it's a good combination.
Software wise, there's nothing new to report – the IdeaPad U300e will be shipping with Windows 7 pre-installed, and while I wish we could save another $100 or so on the license, Lenovo isn't likely to offer a FreeDOS or Linux copy. But then again, with Windows you get access to the fast boot and all the wonderful software available for it, so we're not complaining.
The Lenovo IdeaPad U300e will be coming to the market later this year, along with the higher end U300s, U300 and U400 laptops, and will cost $959 in the configuration listed above. That's under Intel's $1000 price point, and frankly for the ability to use a hard drive and an SSD (especially if they can be replaced with any other HDD and mSATA drive), it's a fair price to pay.