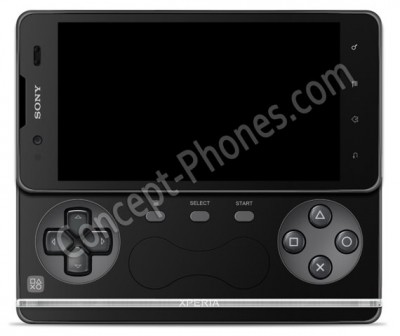 Sony Ericsson Xperia Play wasn't much of a success. Now that Sony has purchased Ericsson, the Japanese company seems to have not given up the concept with what appears to be a successor.
Concept Phones got a hold of two photos of a purported Xperia Play 2. Jsus handed over these pictures to them. Jsus who also goes by the name Nozomi is the same guy that leaked real photos of Sony Xperia Arc HD before it was officially announced. Concept Phones doesn't dismiss the possibility of these photos as concept designs but the tipster insists they are real. In addition, he also gave details of its specs.
The Xperia Play 2 is said to have a 4.3-inch display – just a wee bit larger than Xperia Play with its 4-inch screen. Its design resembles the Samsung Galaxy S line-up – rectangular but with curved corners. Slide the screen up and the traditional PlayStation controller will pop right out, just like its predecessor. Screen resolution is at 1280×70 pixels. The Android gaming phone is also rumored to be powered by Qualcomm's dual-core 1.5GHz Snapdragon S4 processor although this component remains uncertain. It has an 8.1MP camera with autofocus, LED flash, and 16x digital zoom.
The phone's Android firmware is unclear because photos reveal it still has the same touch buttons used in previous builds – you know, the Menu, Search, Back, and Home buttons. Android 4.0 Ice Cream Sandwich already has three capacitive buttons built in, eliminating the need for these four standard touch buttons. So I'm curious whether Xperia Play 2 is going to ship with Gingerbread or ICS.
Before you get too excited, word about Sony Xperia Play 2 has not been confirmed. But the credibility of Jsus is a tipster hasn't been tainted yet.
via Concept Phones