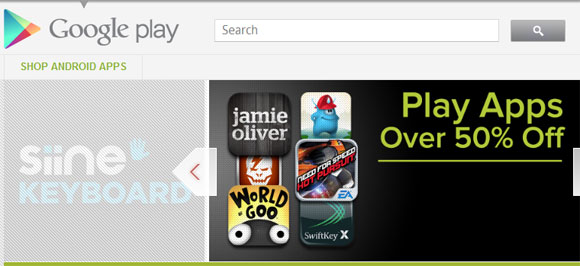 It all started with apps mysteriously going on sale at the Android Market for $0.49. Right then and there I knew something was up. Last time Google had a sale – 10 apps for 10 days a $0.10 each – they celebrated Android Market's 10 billion downloads. Guess what? My hunch was right. Google is celebrating the death of Android Market.
Yeah, you read right. Android Market is dead. And Google is celebrating it with a 7-day app sale. Every day for 7 days, 25 apps will cost you $0.49 each. Like the 10 billion downloads sale, new apps will be featured every day with a few repeats. The banner reads "Play Apps Over 50% off." If you haven't got a clue, Google is referring to the all new Google Play.
You won't notice any difference when visiting the Android Market from your phone but if visit it from a browser, you'll be redirected to a page called Google Play. Google did this without any warning although some tech sites thought the rumored Nexus tablet was going to be named Google Play. The death of Android Market stirred a lot of mixed emotions among users. Some loved it. Most hated the idea. So what is Google Play exactly? And what would this mean for Android users and everyone else?
What is Google Play?
Google Play is one-stop website where you can access four Google Services – Google Music, Google Books, Google Videos, and the now-dead Android Market. The concept? To take digital entertainment anywhere you go. Google Play gives users the chance to enjoy music, books, movies, and apps on the web or their Android device wherever, whenever. It basically works as a cloud which stores all your purchases from all four Google services.
Play Music (formerly Google Music) is a service that lets you buy new tracks. You can also use it to store more than 25,000 songs from your own library. Play Movies (formerly Google Videos) gives you the chance to rent movie titles, even new releases. Play Books (formerly Google Books) is a place where you can browse free and paid eBooks. Finally there's Play Store which takes the place of Android Market where you can choose from more than 450,000 apps and games for your Android device.
What happens to these services on my Android?
Android owners from around the world are wondering what this means for them. Apps like Google Music, Google Books, Google Videos, and Android Market are installed in their phones. No announcement has been made yet but I've seen photos leak online of dedicated apps for these services. Google will most likely push out an OTA update for Android users that have these apps, changing their look and icons altogether.
What Google Play means to us
Google Play is a drastic change that many of us find upsetting. Google has set a name in all four services and merging them in one brand stirs confusion. Changing the icons of these services on Android devices doesn't sound any more appealing because we've gotten used to them. We probably won't stop calling them by their old names – Google Music, Google Videos, Google Books, and Android Market.
But we have to admit that no matter how upsetting this all is, Google Play is a major rebranding strategy and a great service overall that lets us access entertainment from anywhere. For the meantime, just take advantage of everything on sale for the next 7 days which includes Android apps, eBooks, music, and movies. Availability of eBooks, music, and movies are limited to a few countries but apps on sale are worldwide.