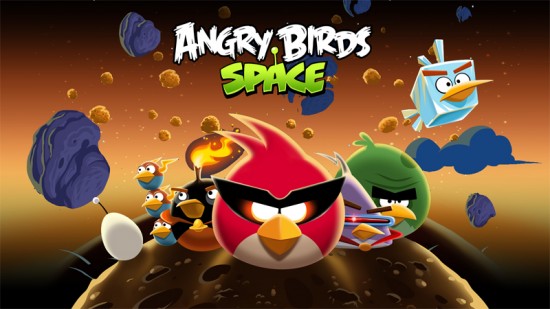 Angry Birds Space landed on Google Play and Apple's App Store days ago. So far, the game's free version garnered more than 30,000 4-star reviews on both iOS and Android. People who own a Samsung Galaxy device get some extra love with an 30 additional levels under "Danger Zone". But Windows Phone isn't getting the same love from Rovio Entertainment who says they won't port their latest Angry Birds edition to Microsoft's mobile platform.
In reference to the original Angry Birds app, Rovio Entertainment chief marketing officer says "We're the number one app in the Windows Phone app store, but it's a big undertaking to support it" during an interview with Bloomberg Television. He explains they have to completely rewrite the game just to make it compatible for Microsoft's mobile OS. Reading between the lines, Rovio clearly doesn't want to bother bringing the app to Windows Phone users – and with good reason.
iOS and Android are today's two leading mobile platforms. iOS has been on the top long enough and remains to be the most profitable platform for app developers. Android quickly caught up to the giant and kicked out rival mobile platforms out in the curb, including the now-struggling RIM. Both platforms are used in a variety of mobile devices including smartphones and tablets. Windows Phone, a mobile platform currently used in phones and tablets, failed to gain traction in the past two years of its existence.
Given Android's progress and the unwavering fifty percent market share of iOS, Windows Phone only gets a small slice of the pie. Without that many users, no company in their right mind – especially one who developed the world's most popular mobile game – is going to invest in it, at least for now. Looking beyond compatibility issues, Rovio clearly doesn't want to port Angry Birds Space to Windows Phone because of its low chances of profitability. A fairly understandable move for a company with more than 300 employees and has sold millions of Angry Birds plush toys, cookbooks, and comics.
If you have an Android or iOS device, the game is free to download at Google Play and Apple App Store. Aside from new birds and superpowers, the gameplay is changed by the zero-gravity environment. Angry Space HD is a paid, ad-free version of the app optimized for high-resolution display. It costs $2.99 for both iOS and Android devices.
via Bloomberg