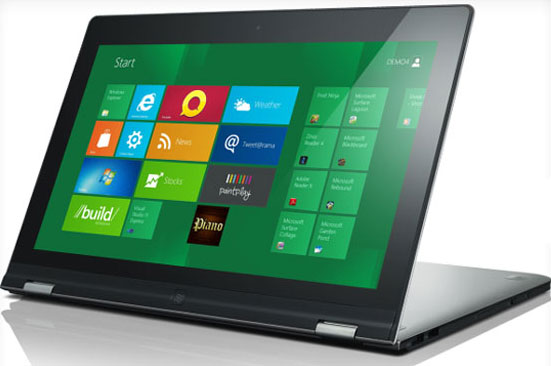 Windows 8 is still cooking but that doesn't stop manufacturers from wanting to make the first tablet with Microsoft's latest OS. Dell, Asus, HP, and more recently, Nokia have all expressed their interest in making the first Windows 8 tablet. But it looks like Lenovo wants to beat them at it. According to this latest rumor, the company is already planning their release of a Windows 8 tablet.
Microsoft is still working on Windows 8 but analysts say it should be ready by fall. Lenovo believes the OS will start shipping in October and they're planning to release a tablet that runs it on the same month. While Windows 8 tablets are supposed to come with ARM processors, that won't be the case for Lenovo. A source tells The Verge that Lenovo's Windows 8 tablet will have an Intel chip instead.
If we take the Intel chip as a clue, IdeaPad Yoga might be the champion of Lenovo in the race for a Windows 8 tablet. It is a 13.3-inch tablet PC hybrid reminiscent of Asus' Transformer series. When it was launched in this year's CES, it came with an unpolished version of Windows 8 on-board. Above everything else, the tablet had an Intel Core i7 chip in it which fits the profile described by the tipster.
Lenovo may be ahead with IdeaPad Yoga but other manufacturers still pose a threat. Dell, Asus, and HP are experienced makers of Windows tablets, with their most recent models running Windows 7. Nokia is still a force to be reckoned with even though they're new to Windows OS and tablets. Just a few months after releasing their first Windows Phone, Nokia has surpassed HTC and Samsung as the largest maker of Windows Phones. Nokia has experience with Windows 7. All they have to do now is come up with hardware and a device that meets Microsoft's requirements to run Windows 8.
I'm most curious with what Nokia has to offer. They caught us by surprise with PureView 808 and there's a chance they'll do that again with a Windows 8 tablet. It's also worth noting that this is Nokia's first shot at tablets. Still, it would be most interesting to see Windows 8 on Lenovo's IdeaPad Yoga. Its tablet PC form and Intel Core i7 processor would both complement and showcase Microsoft's next-generation OS.