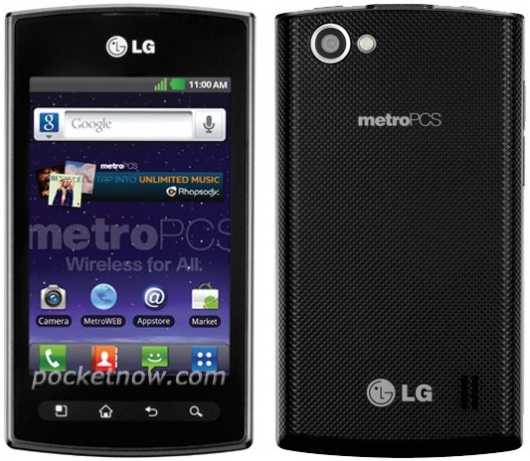 MetroPCS is upgrading their one year old LG Optimus M to Optimus M+. While it's not much to rave about, those looking into buying an entry-level Android should take it as an option. LG Optimus M+ may have humble specs but they're enough to make a decent upgrade. It's also worth mentioning that it has undergone a complete makeover to resemble LG Optimus 4X HD but with curved top and bottom edges.
LG Optimus M had four physical buttons with a cheap metallic finish that continued all the way to the back. Its successor steers clear from that and now has an elegant design. Because it looks more like Optimus 4X HD, it has a linear body with the exception of a curved top and bottom. The four physical buttons were replaced by touch key lights for accessing the menu, home, back button, and search function. Side buttons aren't visible from the front but can be seen from its back. LG Optimus M+ also has a 3.5-inch HVGA display with 256,000 colors. Last year's model had a 3.2-inch screen and was limited to 64,000 colors. There's no difference in resolution though, except that colors would be more vibrant.
On the back you'll find a black plastic cover with a 5-megapixel camera and flash. Its predecessor was limited to a 3.2-megapixel camera and didn't even have flash. Inside, the processor was upgraded to 800Mhz which is a standard spec for entry-level smartphones these days. Bluetooth was bumped up to 3.0 EDR which provides faster transfer of files than the typical 2.0.
LG Optimus M+ will run on Android 2.3 Gingerbread, completing its entry-level package. We expect it to hit MetroPCS soon with model number MS695. It will be joining high-end LG phones offered by the American carrier, namely LG Connect 4G and LG Esteem. Both are also running on Gingerbread but might be upgraded to Ice Cream Sandwich later this year.