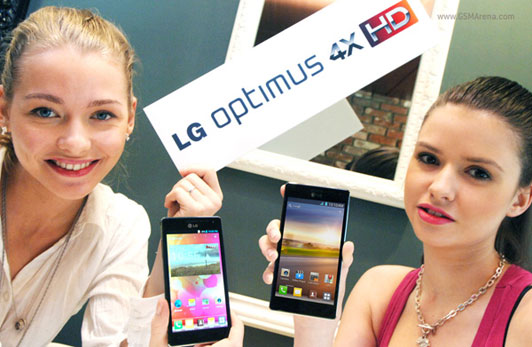 Everyone's showing off their quad-core devices at the 2012 Mobile World Congress. Korean company LG just had to be a buzz kill and announce one ahead of everyone else. In yet another press conference, they unveiled LG Optimus 4X HD along with its specs.
Okay, I may have exaggerated just a tiny bit. Okay, a lot. Several quad-core devices have already popped up prior to LG's unveiling of Optimus 4X HD, including HTC One X/Edge/Endeavor or whatever it is you call it on your part of the world. All of them – including those that haven't been announced yet – are rocking MWC which is fittingly themed "Redefining Mobile".
Optimus 4X HD is the eighth Android device recently announced by LG alone. Among those previously announced is Optimus Vu which is an obvious Samsung Galaxy Note rip-off, Optimus LTE Tag, Optimus 3D MAX, Optimus 3D Cube, and just yesterday, the L-Style lineup comprising of three stylish phones – L3, L5, and L7. Optimus 4X HD is the crème de la crème of LG's latest offerings of Android phones and the only one with a quad-core processor. Call them narcissistic for hosting a series of press conferences to unveil a variety of devices but at least they're showing up at MWC 2012. Shame on you, Samsung.
Let's cut to the chase and see what's inside of the Optimus 4X HD, shall we? The phone is powered by a 4-PLUS-1 Tegra3 processor clocked at 1.5GHz. NVIDIA is yet to reveal details of this powerful chip at MWC. It has a 4.7 inch screen with a (shall I say, disappointing) 720p resolution and "True HD" IPS display. Internal storage is 16GB and it has a 1GB DDR2 RAM. Optimus 4X HD has two cameras – a rear 8MP camera with flash, and a front camera with 1.3MP. Its cameras are so last year, don't you think? But this phone does ship with Android 4.0 Ice Cream Sandwich and a barely-skinned, near-stock user interface.
By the way, if you've been paying close attention to LG's series of press conferences, they've been using the same damn models in different clothes. Really, they should've asked for free LG phones with each unveiling.
LG Optimus 4X HD Key Specifications:
– Chipset: 1.5GHz Quad-Core processor (NVIDIA Tegra 3)
– Display: 4.7-inch (1280 x 720) True HD IPS
– Memory: 16GB eMMC and 1GB LP DDR2
– Camera: 8.0MP BSI Sensor (Rear) and 1.3MP (Front)
– OS: Android 4.0 Ice Cream Sandwich
– Battery: 2,150mAh