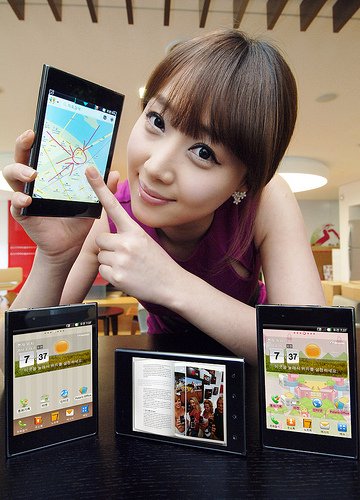 LG has announced quite a few smartphones last year, and a lot of them just went by unnoticed for one reason or another. The only handset worthy of attention was the Nitro HD, which had a 1280×720 pixels resolution on its display. This year, it seems that LG is set on becoming more prominent on the mobile market, releasing several new handsets at the upcoming Mobile World Congress in Barcelona.
One of them was actually leaked quite a while ago, but aside from a screenshot, there was no information about the phone's specs. All we knew was that the phone is a direct competitor to the Galaxy Note, with one notable difference – a 4:3 format display. Well, we've just got confirmation that the device will be at this year's MWC, and it's named the Optimus Vu.
The LG Optimus Vu is quite an interesting handset to look at (and you really can't NOT notice it) – the use of a 4:3 format display means that the phone is square, and it will be interesting to see how that holds up in real world usage. Technically, for such a big device, it shouldn't be a problem, since you'd have to hold it with both hands even if it had a wide screen (the Galaxy Note barely fits in one palm and you sure can't use it with one hand). The Vu is very slim, though – at 8.5 mm, it's quite a lot thinner than the Galaxy Note.
The LG Optimus Vu's most interesting feature is the 5 inch display, which is an IPS LCD unit and has a resolution of 1024×768 – the same as the iPad's, for example. This should make it great for reading eBooks and websites, but it still doesn't really explain the 4:3 format – the Galaxy Note's 5.3 inch display has a 1280×800 pixels resolution, so why couldn't they make a 5 inch screen with a 1280×720 resolution?
The other hardware features fall in line with most of the other phones on the market – there's everything you might need on a smartphone, from the Wifi, Bluetooth and GPS adapters to the various sensors, HDMI out, 3.5 mm audio jack and an NFC radio, as well. The battery is a pretty big 2080 mAh unit, but it'll most likely be eaten up by the display in less than 8 hours, so it's not all that impressive, after all.
The performance of the Optimus Vu will definitely be on par with the other flagship phones – the handset uses a dual core 1.5 GHz processor and 1 GB of DDR2 RAM – that's more than enough to handle any kinds of apps and games, and it's pretty much the same as the Galaxy Note. There are also 32 GB of storage space inside, which is great, since there's no way to expand it.
LG will be shipping the Optimus Vu with Android 2.3 Gingerbread, but an update to Ice Cream Sandwich will be available soon after the release. It's a bit weird, actually, since ICS was out for a while now, but I guess there's no reason to fret over it.
The Optimus Vu has yet to be officially announced at MWC, but promo shots are already coming out from South Korea, so it's not that much of a secret. The pricing will be similar to the Galaxy Note's, I'm guessing, but we'll have to wait and see if the Vu is a good alternative with its unorthodox display.
LG Optimus Vu Key Specifications:
– Chipset: 1.5GHz Dual-Core Processor
– Display: 5-inch (1024×768) IPS Display
– Memory: 32GB eMMC and 1GB DDR2
– Camera: 8MP with AF LED Flash (rear) and 1.3MP (front)
– OS: Android 2.3 Gingerbread
– Battery: 2,080mAh
– Dimension (L x W x D): 139.6 x 90.4 x 8.5mm
source: LG