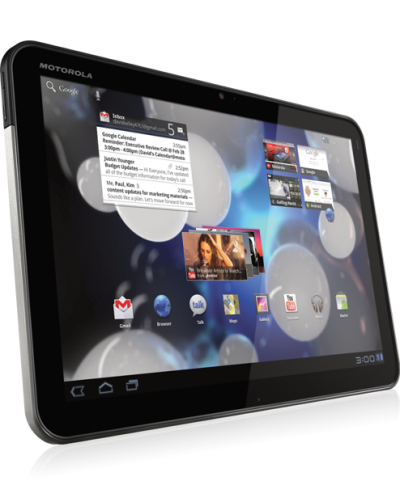 Motorola XOOM was the first tablet to sport Android 3.0 Honeycomb but that didn't turn out to be a good thing. Not all applications are compatible with Honeycomb and since less than 5 percent of users are stuck with the tablet-specific Android version, only a few developers bothered optimizing apps for it.
Motorola XOOM owners were left with no other choice since it was the only available firmware for their device – but that is about to change soon. Motorola says they're rolling out an Ice Cream Sandwich update for their Android tablet starting today.
The bad news is, not everyone who owns Motorola XOOMs are eligible for the update. But if you happen to live in the US and own a Motorola XOOM WiFi, you can update it to Android 4.0 ICS. The update is currently available for download beginning today and brings new features and optimizations including:
• New app launcher. User interface has been redesigned. Drag an app to learn more about it or uninstall it. You can also disable a pre-installed app without having to root your device.
• New system font. Take advantage of Ice Cream Sandwich's very own Roboto font, made for high-resolution screens. The new typeface doesn't only look sleek and clean – it also improves readability of font.
• Resizable widgets. Expand or shrink widgets based on your preference. Completely take control of your Home screen's appearance.
• Swipe to remove action for notifications, tasks, and browser tabs. Individually remove notifications, apps on the Recent Apps list, and browser tabs by swiping your finger across the screen.
• Improved browser. Save pages offline, choose to view desktop versions of websites, and enjoy faster rendering, pan, and zoom.
• Updated "People" Application. Integrate contacts to Google+ and social networks.
• Photo-editing function added to Gallery app. Crop and rotate pictures, use filters, add effects, remove red eyes, and do a lot more with the new photo editor.
• Voice typing. Write SMS, emails, or any text using your voice. To activate the service, press the microphone on the keyboard and start talking. Over 20 languages are supported by this feature. Texts appear in real time as soon as you say a word.
• More accurate text input and spell-checking functionality. Type words faster when using the keyboard. The improved spell-checker makes corrections easier too, making text creation faster.
• Improved imaging capabilities. Launch the camera from the Lockscreen. Capture wide scenes using the camera's single-motion panorama mode. Give your videos more personality by adding fun effects.
Besides these new features the Ice Cream Sandwich update also enables faster screen rotation, the option to choose whether or not the power button locks the device, Microsoft Exchange improvements, improved phone number recognition, and better stability. Most importantly, Ice Cream Sandwich gives you access to more applications since it was created to eliminate – or at least, reduce – Android fragmentation.
To get the update, connect your Motorola XOOM WiFi to an active WiFi network and you will be notified. Motorola Droid Xyboard 8.2 and 10.1 are getting the same ICS update this year. Both tablets are tied to Verizon and shipped with Honeycomb.