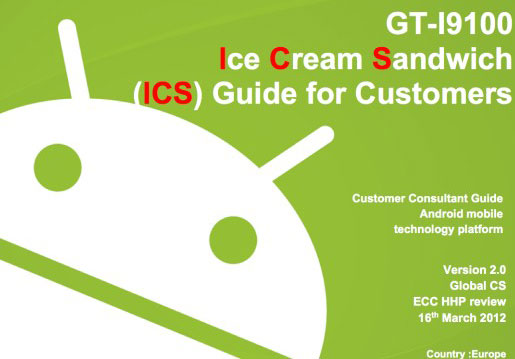 Installing Android 4.0 Ice Cream Sandwich on your Samsung Galaxy S2 will change how you use your phone. The update still features TouchWiz but significant changes were made on its user interface. Samsung Europe went out of their way and made a user guide for European owners who want to update their Galaxy S2 to ICS. It includes a Q&A (for European users) as well as a walkthrough to help SGS2 users from around the world with the ICS update.
The Q&A portion on Samsung's guide answers the most frequently asked question of European users – will I be able to update my Samsung Galaxy S2 to ICS using FOTA? Apparently, this feature doesn't work in Europe and users have to update their phones via Kies. The same is probably true for other regions. If you find it troubling to update to Ice Cream Sandwich using Kies, we prepared an installation guide for you . It's easier to do, doesn't break your warranty, and even keeps your phone's data.
The question-and-answer section also cites the update's lack of flash support. To get it working, you have to download Adobe Flash Player, free on Google Play. Also mentioned was the lack of ICS compatibility for some apps. Samsung pretty much tells us it's not their fault and that we should contact app developers instead. Touché on that.
After the Q&A section, there's a walkthrough that acts as a startup guide. If you've flashed leaked ICS builds before, the startup guide is useless. On a different note, most Samsung Galaxy S2 owners don't know they need to setup several accounts after installing an update. So if you need help, Samsung's user guide comes in handy. Aside from the startup guide, differences between Gingerbread and Ice Cream Sandwich on Samsung Galaxy S2 were detailed. Some changes are obvious like the new slide lock and the recent apps display. But others changes are discreet and that's where the user guide is truly useful. Understand how to use the new text selection method, find out where to find options in the settings menu, and learn the new way of screen capture among many others.
The user guide is available in PDF format and something you can download and view on your Samsung Galaxy S2. It has 40 pages but mostly pictures and just a few texts. We recommend you use a separate device or your computer for downloading and viewing Samsung's ICS user guide since you need to access it after updating your SGS2 to Ice Cream Sandwich.